When asked to make predictions about newswriting for 2021, Kevin D. Grant, co-founder & chief development officer of the nonprofit news organization GroundTruth Project, forecasted the end of "parachute journalism."
For both practical and ideological reasons, Grant believed the practice of sending journalists into a community they are unfamiliar with to tell a story after traveling and then leave, often on a tight deadline, would — or at least should — come to an end.
Grant wrote of this foreign correspondence model:
[Parachute journalism] evokes a vivid image: An out-of-towner arrives by air, perhaps without much preparation or knowledge. Upon landing, he or she does their best to manage local language, currency, transportation, and communication, all while likely nursing jetlag. The parachute journalist might rely on a "fixer" — a local journalist with knowledge and connections who may not receive any credit on the final product. Or the visiting reporter might go it alone, inevitably missing critical context and possibly key facts.
Observers like Grant suggest that beyond the costs of travel and logistical issues in a post-pandemic world, parachute journalism can result in superficial and unoriginal reportage with little or any contextual depth. Sometimes, it can produce reports riddled with errors or strained relationships between the reporter and their local "stringers." These shortcomings  are compounded when complex topics like religion, spirituality and ethics are added to the mix.
While parachute journalism's weaknesses may be evident, news organizations can be reticent to pay for the upkeep of expert foreign correspondents or can be wary to employ local reporters in U.S. diaspora communities without extensive vetting.
Nonetheless, news organizations should strive to cover every community with accuracy, nuance and sensitivity. Such coverage is especially important given the risks and prejudices marginalized and vulnerable religious communities face in the U.S. and abroad.
In this Reporting Guide, we focus on how "ethnographic journalism" might provide some solutions for religion newswriters looking to report on such communities with critical sensitivity.
Table of Contents
What is ethnographic journalism?
Isn't this just "good journalism?"
But this isn't *real* ethnography…right?
Ethical issues to consider
Reporting tips and best practices
Resources for further exploring ethnographic journalism
What is ethnographic journalism?
The notion of "ethnographic journalism" — or "anthro-journalism" — first emerged in the 1980s. Randolph Fillmore, founder of the erstwhile Center for Anthropology and Journalism, coined the term to describe a style of journalism that went beyond the "'who, what, when, where, why' to examine the cultural context of human events and issues."
Filmore's vision was that journalists and cultural anthropologists would work with similar tools, and collaborate together to help readers better understand the complex reality of human relations in the 21st-century. He wrote:
With the practise of Anthro-Journalism, journalists can, in the right place and at the right times, move beyond simple reporting to a level of analysis worthy of being called "ethnography."
More recently, journalist and anthropologist Anne Kirstine Hermann used this term to highlight the use, and importance, of fieldwork by journalists. Hermann wrote:
At a moment in time when multiculturalism poses evident challenges to the press and media trends require more contextual reporting, ethnographic journalism emerges in American feature journalism. Analyzed holistically, this genre is characterized as the employment of immersion strategies adopted from social science for distinct storytelling purposes.
In a piece on "Journalism's Essential Value," New York Times publisher A.G. Sulzberger advocated that "Reporters need to work harder to go to unfamiliar places, meet with unfamiliar people, and challenge our own assumptions with unfamiliar perspectives, experiences, and ideas." 
Ethnographic journalism offers multiple opportunities in this regard. By immersing a journalist within a more holistic, thorough and interpersonal process of fieldwork, ethnographic reporting helps increase the reporter's empathy and understanding of local conditions, without removing the advantage of a fresh, outsider's perspective. In effect, it can help ameliorate the worst of "parachute journalism," while at the same time provide angles that insiders and local reporters might miss.
In keeping with ethnography's desire to make the "familiar, strange" and the "strange, familiar," this kind of journalism provides opportunities for more immersive storytelling and expanded narrative worlds. It has the potential to allow multiple publics to better understand marginalized communities. At the same time, ethnographic journalists can highlight what is strange — or at least, not readily recognized — about communities that audiences might be more familiar with.
Take, for example, the stories below. In the first story, reporter Sarah Ventre spent three months living in the former home of the Fundamentalist Church of Latter-day Saint's prophet Rulon Jeffs. The result was the award-winning 2020 podcast "Unfinished: Short Creek," about the fundamentalist Mormon community on the Utah-Arizona border.
Reflecting on her reporting, Ventre said, "There is a great need for reporters — and their audiences — to approach these communities and topics with a lot of cultural humility." In general, Ventre said, when reporting on marginalized communities, "try replacing the name of the smaller religious community with that of a large one in a sentence and see if it strikes you as odd.
"Would you say that someone escaped the Catholic Church, even if they were abused? Would you say someone was brainwashed by a rabbi? Et cetera," she said.
In effect, reporting like Ventre's helps make the strange more familiar.
At the same time, these kinds of stories also can help make the familiar stranger. If reporting can humanize and familiarize members of seemingly "strange" groups like the FLDS, they can simultaneously show us how groups that we might be more comfortable or familiar are, in the end, quite strange.
Beyond "religion" as we usually know it — or those things bearing resemblance to how we define such a category — ethnographic journalism also can help reveal surprisingly religious aspects of communities and activities often considered "non-religious," as research and writing on sports fandom has shown.
Brook Wilensky-Lanford, Program Coordinator for the Sacred Writes at Northeastern University and a freelance writer and editor, said she tries to impress upon students and journalists that "any religion is just as weird as any other religion."
This perspective is at the heart of ethnographic journalism. When applied to the religion beat, the reporter's goal is to dive deeply enough into seemingly strange settings and make them more familiar to the reader. Or, on the flip side, to make "strange" that which is usually taken for granted.
In the end, this is good journalism — journalism that represents human beings, institutions and customs in all their complexity, without privileging any particular tradition or making an argument for one way of life over another.
For example, a religion reporter might use the tools of ethnographic journalism to interrogate and investigate what is taken for granted about Christianity's normative privilege in U.S. culture (e.g., when it comes to sexual ethics, linkages between faith and the economy or how it is almost unfathomable to imagine a president who does not proclaim some form of faith).
Religion reporters might also spend a sufficient amount of time, and apply tools related to ethnographic fieldwork, getting to know a religion on the margins in U.S. culture so that they can transcend sensational reporting in their writing, offering a nuanced take that reveals how other traditions use familiar religious practices like worship, funerals, education or philanthropy.
Example Coverage
Unfinished: Short Creek
By Ash Sanders and Sarah Ventre, Stitcher/Witness Docs
2020
(Stitcher/Witness Docs) – Short Creek is a community on the Utah/Arizona border divided by much more than a state line. On one side are fundamentalist, polygamous Mormons who believe the town should be run by God—and his prophet. On the other are ex-believers who want democracy—and the right to believe (or not believe) as they want. When the prophet, Warren Jeffs, goes to prison for sex crimes, the community has to face its painful past…and struggle to define its future.
From Witness Docs and Critical Frequency, hosts Ash Sanders and Sarah Ventre move beyond the headlines and embed in the community to bring you Unfinished: Short Creek, a very American story⁠ about the battle between freedom of religion and freedom from religion that asks whether people on two sides of a deep divide can rediscover common ground.
Listen to the podcast at Stitcher…
Example Coverage
Swedish Ecologist Revives Old Norse Myths And Rituals To Tackle Environmental Crises
By Meara Sharma, Religion Unplugged
May 2, 2023
(Religion Unplugged) – According to Norse mythology, the world is an immense tree. Known as Yggdrasil, this eternal tree stands at the center of the cosmos, and is the source of all life, all things. From Yggdrasil's acorns sprouted Ask, the first man, born of an ash tree, and Embla, the first woman, made of an elm.
"And the gods formed man and woman in their own image of two trees, and breathed into them the breath of life," goes the Prose Edda, the 13th century source book of Norse myths.
Ironically, today, both the ash and the elm are suffering, plagued with disease and critically endangered.
That humanity's original ancestors are under threat is a potent metaphor for Andreas Kornevall, a Swedish-British ecologist and educator who is devoted to bringing the wisdom of Old Norse myths and rituals to bear on contemporary life — particularly in relation to current environmental crises. Through storytelling, scholarship and ceremonies, Kornevall excavates the ecological ethic inherent in the pre-Christian spirituality of northern Europe, in which — like so many ancient practices around the world — the Earth itself is the locus of the sacred, and the gods are embodiments of natural phenomena.
I met Kornevall, 52, near his home in Brighton, England, where we spent an afternoon sitting in the tree-shaded courtyard of a church turned art gallery. Blond and quietly charismatic, with a manner somewhere between passionate professor and carefree surfer, he described how his work reviving the old customs is an effort to refresh how we comprehend our increasingly precarious place on Earth — and, indeed, restore an innate, age-old sense of interconnection with and reverence for the natural world.
Within moments of meeting, he pointed out to me that the words "tree" and "truth" derive from the same Old English root — a synchrony that speaks to what we've long known but of late have forgotten. As he writes in his book, "Waking the Dragons: Norse Myth, Runes, and Magic":
"The eternal tree is vulnerable to our forgetfulness. Forgetfulness causes drought and wildfires and empties the well that feeds the tree. Too much forgetting is an ecological disaster."
The seeds of Kornevall's three decades of work at the intersection of spirituality, environmentalism and activism were first sowed in childhood.
Isn't this just "good journalism?"
Ethnographic journalism came up for discussion as part of focus groups featuring journalists who participated in the "Spiritual Exemplars Project," from 2019-2023.
Working with social-science researchers at the Center for Religion and Civic Culture at the University of Southern California, journalists profiled 100 "spiritual exemplars." Equipped with research grants and with travel expenses covered, journalists were able to spend a week or more reporting on the individuals and communities they profiled.
Reflecting on their participation in the project, one reporter characterized the work as "ethnographic journalism,"saying it "invites a kind of revolution in religion coverage, particularly around controversial issues, exoticized communities or difficult individuals."
Other journalists echoed that sentiment, using a range of words to define and describe new forms of religion journalism that feature in-depth encounters, extended fieldwork and some of the hallmarks of narrative non-fiction writing.
They felt that "this kind of journalism" helped with certain issues and complicated others. For example, they said it:
helps reporting on "third-rail" issues or addressing trauma;
brings more marginalized and unnoticed stories to the fore;
allows for more nuance on tough, religion-related topics;
helps deconstruct the process of journalism itself;
creates deeper relationships between the subject(s) and the author;
and introduces dilemmas around responsibility and engagement with the subject(s) involved.
The journalists drew parallels between "ethnographic journalism" and other forms of emergent reporting styles, including:
Collaborative journalism – Defined as "executing journalistic endeavors using a cross-entityapproach," collaborative journalism is seen as a way to reduce competition between news organizations and/or transform the way reporters work with assistants, stringers or local reporters in foreign locales. Emphasizing shared resources, responsibilities and recognition, it endeavors to formalize the process of multiple organizations or entities within organizations working toward a shared journalistic goal.
Embedded reporting – More often associated with war correspondence or coverage of foreign conflicts, embedded journalism has expanded beyond being attached to military units to include placing reporters alongside groups for an extended period of time "in the field."
Immersion reporting – According to Oxford Reference, this is "journalism from within, as when a journalist immerses him or herself in a story and writes from their own experience rather than as a dispassionate observer." It features first-person, interactive experiences of news events.
Literary journalism – Similar to immersion reporting, literary journalism involves more intimate, active relationships with subjects the journalist is exploring. Also referred to as narrative journalism or new journalism, this is a form of nonfiction writing that combines fact-based investigations and reporting with narrative techniques and stylistic strategies traditionally associated with fiction.
Mobile journalism – Initially of note during the popular uprisings known as the "Arab Spring" in 2011, this is a  form of multimedia newgathering, sharing and storytelling that features journalists and everyday interlocutors documenting, editing and sharing news via small, network connected devices like smartphones. Its advocates praise its ability to "revolutionize participatory journalism" and offer more "on the ground" and "firsthand" accounts that can challenge official or predominant news narratives.
New religion journalism – Ed Simon defines the New Religion Journalism as being a "mode of nonfiction in which often personal questions of faith are interrogated against the backdrop of wider issues, where authors frequently insert themselves into the story in a manner in which more traditional 'God beat' reporters wouldn't, and most importantly, where the theism/atheism binary is questioned and the full ambiguity and ambivalence of belief can be displayed."
Slow journalism  – Reacting to the pressure to publish stories at an increasingly fast rate in a digital age, slow journalism involves "a purposeful stepping back from the news cycle to consume news at a slower but deeper pace." Critiquing news cycle journalism for being basic and superficial, slow journalism is "about taking the time to report the news with close attention and more depth." You can find examples of this kind of journalism from publications like Tortoise or Delayed Gratification.
Solutions journalism – According to the Solutions Journalism Network, this reporting not only features rigorous research and compelling writing, but focuses on responses to social problems, how those responses have worked or what are their limitations, provides fact-based evidence about a response's effectiveness (or lack thereof) and equips readers with practical insights for addressing issues in their own context. Solutions journalism has become a regular feature of reporting on issues including climate change, poverty, abuse and trauma.
During the aforementioned focus group discussions, one reporter wondered whether "ethnographic journalism" is just "good reporting." Of course, many reporters would agree: This is the kind of reporting all aspire to.
At the same time, the realities of the newsroom and the digital news landscape mean increasing pressures put on editors and administrators in providing the kind of resources needed for in-depth journalism. Time, money and bandwidth are all precious commodities in contemporary journalism — and ethnographic journalism requires all three.
Projects like the CRCC's "Spiritual Exemplars" project do not always come along, but journalists can try and make the case to their editors for this kind of reporting by pointing out some of the examples included in this Reporting Guide. Journalists also can seek external funding from sources like the Pulitzer Center's Global Reporting Grants, grants and fellowship programs from the Global Investigative Journalism Network or foundations and organizations that promote the public understanding of religion, such as the Henry Luce Foundation, the Lilly Endowment, the Templeton Religion Trust and the American Academy of Religion.
Example Coverage
'I Think All the Christians Get Slaughtered': Inside the MAGA Road Show Barnstorming America
By Sam Kestenbaum, Rolling Stone Magazine
September 17, 2022
(Rolling Stone) – THE CAST ASSEMBLES on the megachurch stage, each taking their turn in a pool of light.
There are doomsaying prophets with curved shofars, aspiring politicians lamenting election fraud, and naturopathic physicians warning of demonic invasion. Mike Lindell steps forward and says evil forces are undoing the nation. Roger Stone gives an apocalyptic homily. Michael Flynn lobs T-shirts into the pews. Scott McKay, alias Patriot Streetfighter, gyrates to the sounds of AC/DC while chopping a tomahawk in the air. In time, the Trumpbrothers appear and Eric puts his dad on speaker phone.
Praise music floats in the air and the crowd rocks back and forth. At one moment, a woman drops to the floor — "Hallelujah, hallelujah" — and speaks in tongues.
Standing at stage-right, surveying the festivities this July night in Virginia Beach, is a tall, bespectacled 41-year-old man named Clay Clark. With cropped blond hair and a toothy grin, he steps up to the lectern between each act, standing near a variety show gong. "Alright, ladies and gentlemen, how many of you believe Jesus is king? How many of you believe that Donald J. Trump is their president?" Whoops from the pews. "How many of you believe that Michael Flynn is America's general?" More applause. "And how many of you believe in the power of prayer?"
Equal parts tent revival, campaign rally, and three-ring circus, this is the latest stop on the ReAwaken America Tour, a monthly MAGA pageant that fills megachurches across the country. Before last year, Clark was a provincial talk-show personality and business guru from Oklahoma; today he is a Vince McMahon frontman of a misinformation megashow. Here, the election was stolen from Trump; the pandemic is a horrific hoax; and a cabal of Luciferian cultists, including George Soros, seek world domination. There are End Times oracles, exorcists, multilevel marketers, New Agey health gurus, naturopathic bodybuilders, and QAnon crusaders all swaying together under one tent.
In Clark's career, he has been a regional mogul and a self-help author; he oversaw a dog training company, a barbershop chain, and a photo business. He once ran for mayor. Now, he's tapping into a mix of pandemic conspiracies, God-and-flag patriotism, Stop the Steal fervor, and spiritual supernaturalism — and reaping the benefits. He is not precisely a flame-breathing demagogue, but he is a capitalist who has found his product: culture-war spectacle.
But this isn't *real* ethnography...right?
At its most basic, ethnography is the "description of a people and its way of life" and involves both intensive research among a people, group or community and making an account of those people's way of life.⁠ Distinguished from more quantitative approaches (surveys, structured interviews, focus groups, et cetera), ethnographers seek to offer a more nuanced, qualitative account of a culture or community from the perspective of that culture or community (as much as this is possible, given the ethnographer's background, identity and experience).
To achieve this goal, ethnographers spend an intense amount of time living among, participating alongside and interviewing people in instances when these  people's everyday behaviors are accessible. The  journalists who participated in the focus groups noted above shared that a week (or even two or three) is not really long enough to count as full-fledged ethnography. Nonetheless, while journalists might be unable to complete a full ethnography in the span of week or a fortnight, they can employ ethnographic practices to augment their traditional reporting.
These natural settings can be include social media pages to street art collectives, a local environmental council to a globally networked megachurch and many settings in-between and beyond. As anthropologist Matthew Engelke put it, ethnography is quasi-scientific "hanging out and doing stuff" with people over a long period of time with the goal of better appreciating the entirety of their lives – work, relationships, habits, religious practice, etc. It is akin to being "that kid in school who always wanted to play with everyone. 'Hey, what's going on?! Can I join in?'" Engelke said.
Ethnography has long played a critical role in the study of religion, complementing more textual and historical approaches to religious practice and communities and local forms of religiosity.
Moving away from idealized or ideological representations of "religion," the ethnographic study of religion offers a nuanced, textured and "messy" snapshot of socio-cultural diversification in religious expression, practice, and material life and ways that actors adapt their beliefs, practices, rituals etc. to specific contexts and circumstances, including:
With that said, ethnographers have long struggled with communicating their critical findings to the general public. In this regard, they can both learn from — and lean into active collaborations with — religion newswriters, whose raison d'être is communicating to a wide array of audiences.
And this is the point of ethnographic journalism. It is not to make ethnographers out of journalists or journalists out of ethnographers. Instead, it is an invitation for each to learn from the experience of the other in order to improve the methods and aesthetics of their own practice, for the sake of the improved public understanding of religion.
Example Coverage
In Oaxaca, Indigenous farmers mourn Catholic activist who championed their rights and rituals
By Magdalena Rojo, Religion News Service
February 16, 2022
(RNS) – At Carmen Santiago Alonso's funeral on Feb. 7, the Rev. José Renteria eulogized the Indigenous rights activist as "a very passionate and curious woman with two spiritual sources."
"One was her Zapotec origins and a very profound spirituality of her community," the Catholic priest said. "The other was the roots of evangelism."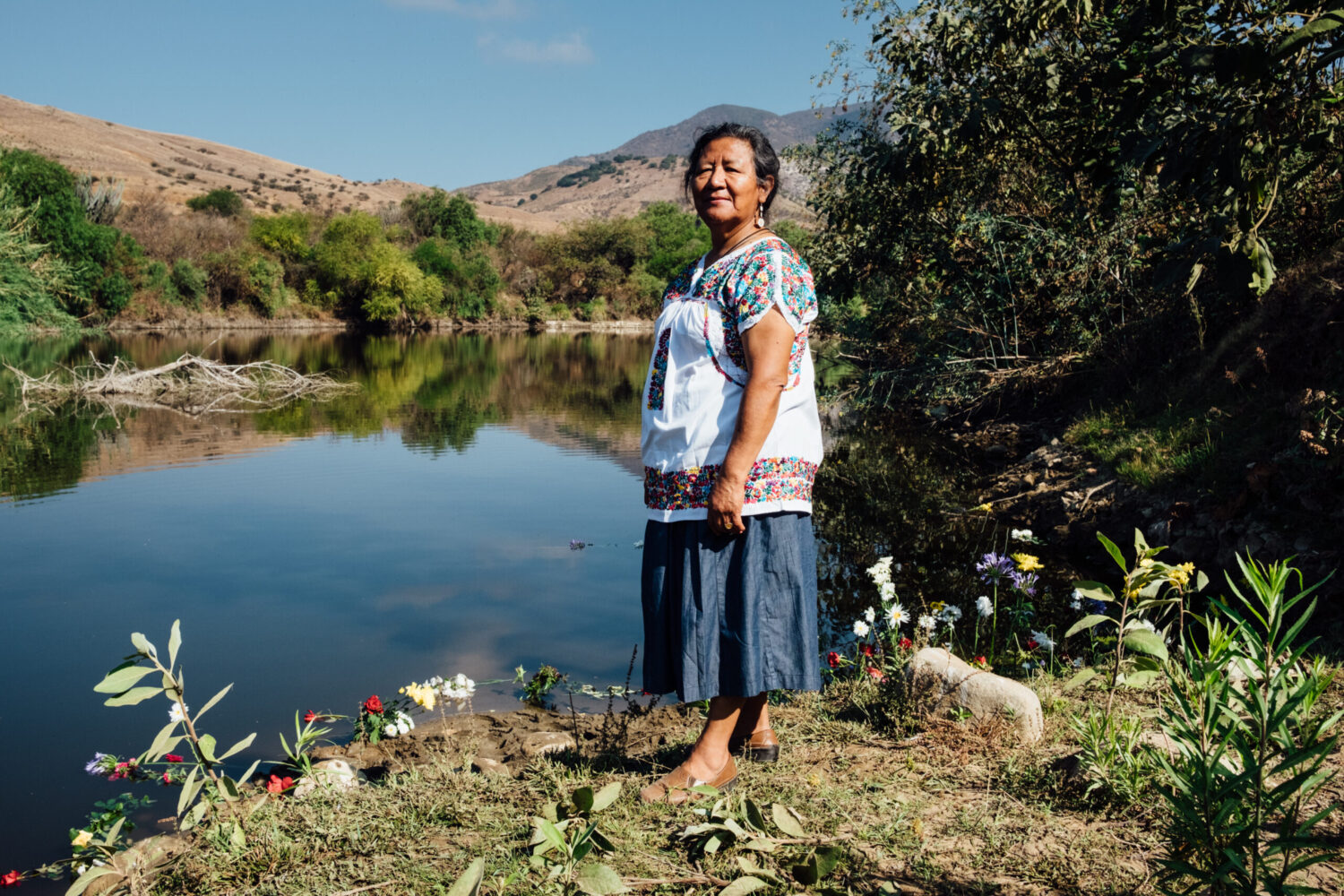 Santiago Alonso, a lay Catholic missionary who championed the culture of Oaxaca's half a million Indigenous Zapotecs by demanding water rights for their farmers, was both a guardian of ancient rituals and agricultural practices and a model for the Catholic Church's future in this region: local, lay-led and concerned with the most vulnerable.
"Carmen was a manifestation that Indigenous church and the church with a feminine spirit is possible," said Renteria.
Santiago Alonso, who died of cancer at age 69, headed the Flor y Canto Center of Indigenous Rights, which she had founded in 1995 to fight for local farmers' water and land rights after Oaxaca's Central Valley had been largely taken over by industrial farming and mining companies.
Advocating for the native Oaxacans and for the environment in this mountainous southern Mexican state can not only be unwelcome but dangerous. In 2020, Mexico as a whole was among the top three countries for killings of environmental defenders.
"I know the risks that our lives run," said Santiago Alonso. "That same fear, however, has given me the strength to continue on my way."
Ethical issues to consider
As might be assumed, such reporting comes with its own set of practical and ethical considerations.
Beyond some of the basics of ethnographic and journalist ethics, there are additional considerations when it comes to ethnographic journalism's practice, promise and potential pitfalls.
One working definition of "news" is "something that somebody somewhere would rather was not made public knowledge." For some journalists, uncovering and then conveying such information is the very essence of their trade: the more exclusive, scandalous or unusual a particular story is, the greater its value to the news organization. Revealing these stories, and reporting them in fact-checked detail, is an essential part of what the "Fourth Estate" would call "speaking truth to power." Ethnographers may sympathize and even support such journalism, but they might also call into question the underlying assumptions, ethics and methods of such a process and product.
What follows are a few additional  issues up for debate and discussion between ethnographers and journalists:
First, the question of "objectivity." One of the positivistic assumptions of journalism is that reporters are to remain "objective." That is, while journalists may be biased in one direction or another, their reporting process and the product of their work should not show favor to either side of an argument or issue, but that they should report "only the facts." There are numerous definitions of journalistic objectivity, but journalism professor Michael Bugeja defines it as "seeing the world as it is, not how you wish it were." There is much to be praised in the ethic of objectivity in journalism.
Ethnographers however, would question if "objectivity" is really the goal, or if more interpretive and reflexive frameworks should be used in "telling the story as it is." If a journalist has a bias, why isn't that made clear, for example. To be fair, journalists themselves have been critiquing and questioning their supposed ideal of "objectivity." In 1996, the Society of Professional Journalists acknowledged this concern and dropped "objectivity" from its ethics code. It also changed "the truth" to simply "truth."
Second is the issue of informed consent. Informed consent is  a standard academic practice to help ease the tension that can exist between interviewer and interlocutor and address the imbalance of power that often exists between them. To ensure that  participation  in research is voluntary, participants are asked to give consent before they are interviewed or observed, usually by signing an informed consent form.  This form includes comprehensive information about what the research is about, how data will be shared and stored and avows that there has been no undue influence exerted on participants to consent.
However, journalists can feel an informed consent process betrays their journalistic independence and prevents them from following the facts or telling the full truth of the situation, especially if they find their interviewees intentionally are hiding the truth or peddling in lies. Say, for example, the interviewee feels the questions have gone too far and, according to their informed consent, they decide to withdraw from the conversation. A journalist would, in pursuit of the story and the truth, push the question and pursue an answer. An ethnographer, however, would be more prone to cease and desist.
While full-fledged informed consent may not become standard journalistic practice, journalists may consider adjusting their practices when working with vulnerable populations or those who often receive  biased media attention (e.g., religious minorities such as Muslims in Europe, and people who follow Afro-Brazilian traditions, New Religious Movements, or indigenous traditions). Practically speaking, journalists might help sources, particularly those who have had little interaction with journalists, better understand their process and what they will be doing with their answers. This information not only helps reporters gain trust, it ultimately may lead to a better story.
Third, while journalists might learn from ethnographers in the above two instances, ethnographers can learn from journalists about the value of fact-checking and verification and may, or may not (depending upon the situation) consider using real names in their writing. Journalistic best-practices require accuracy, even regarding small details. Often, journalists are fact-checked by their editors to ensure that every truth-claim can be confirmed. "Ethnographers," writes law professor Steven Lubet, "in contrast, freely change details in order to anonymize their research subjects and locations, and they are almost never subject to fact-checking by editors or anyone else, usually insisting that they can be taken at their word."
Although journalists, in certain circumstances, may offer anonymity to sources, there are strict standards in place to prevent the "abuse" of this practice. Journalists seldom get free reign to use pseudonyms in the across-the-board manner of ethnography and never allowed to alter facts wholesale. Such strictures are a way to maintain the highest standards of fact-checking: a real name is necessary for the story to be confirmed and followed-up on.
Ethnographers might reject the very concept of fact-checking  because its aims are more interpretive than reporting straight facts. Although one may understand and empathize with the insistence on using pseudonyms and not subjecting ethnographic work to journalistic-levels of fact-checking, ethnographic journalism invites us to consider how there is an argument to be made that using real names and subjecting ethnographic work to more rigorous fact-checking, perhaps even by community members themselves,  could better protect the vulnerable in certain circumstances.
Again, the question comes down to being aware of, and acting accordingly in reaction to, the power dynamics at play. For example, if you are writing about a religious institution or individuals that have been convicted of abuse, an ethnographer might choose to use the real names of perpetrators but, for instance, redact or falsify the names of the victims.
Example Coverage
The Migrant Priest
By Linda Freund, Voice of America
October 3, 2022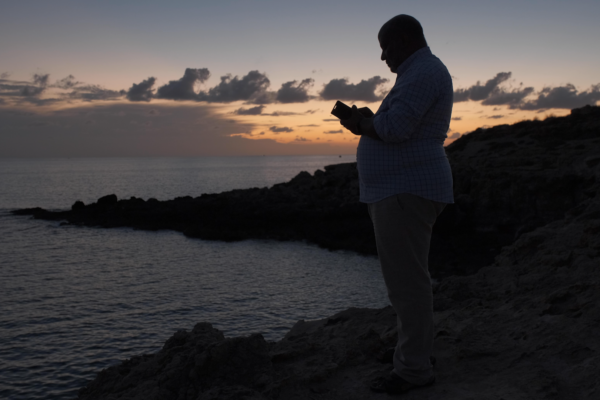 (Voice of America) – For nearly 20 years, Eritrean Catholic Priest Mussie Zerai has fielded thousands of distress calls from refugees and migrants on shipwrecked vessels in the Mediterranean Sea.
"I've heard the voices. I've heard the screams. I've heard the distress calls, shortly before talking to them, and shortly after they are swallowed up by the sea. If you don't have broad shoulders, if you don't have strong footing, which for me is my faith and prayer, the risk is huge. Even the risk of ending up in some psychiatric clinic is real," he said.
The Migrant Priest, a Voice of America documentary, shadows Father Zerai as he travels to Lampedusa, Italy to commemorate the October 3, 2013 shipwreck. Nine years ago, a fishing vessel with more than 500 migrants and refugees caught fire and capsized off the coast of Lampedusa. Only 155 people survived.
Reporting tips and best practices
In the end, when it comes to good religion reporting, there is simply no substitute for "being there," wrote Kenneth Woodward in his book Getting Religion.
Woodward, longtime religion editor at Newsweek magazine, advocates that religion coverage should move from "event to immersion" — or, we might say, in the direction of "ethnographic journalism." 
Reflecting on the tense conflict in Northern Ireland, Rev. Ruth Scott, wrote, "…religions are not monochrome, clear-cut entities. Their edges are blurred. Each faith tradition is made up of diverse, complex, and sometimes diametrically opposed communities…" When covering these stories, journalists need to get at the "inner workings" to better "frame" complex reporting in contexts such as Northern Ireland or Israel/Palestine.
Woodward provides "an account of American religion, culture, and politics over the past fifty years." He writes that his vantage point on the matter is quite unique, because the book is written "by someone who was fortunate enough to be in the right place at the right time to witness events and people in ways that others never could or did, and to challenge some competing narratives through […] personal reflections on what happened and why."
Reflecting on major shifts, changes, moments, and movements in 20th-century American religious history, Woodward writes that when done at a distance, religion reporting can feel more like a "research project." Critiquing reporters whose "world is confined to the computer screen in front of them," he encourages newswriting that is done intimately, written by those "embedded" as reporters in the field, and with richly interwoven narratives of experience and flesh-and-blood realities. To us, this sounds like a rally cry for "ethnographic religion journalism." 
To that end, journalist Walt Harrington offered nine tips for doing "journalistic anthropology:"
Immerse yourself in the life of your subjects.
Let action unfold naturally.
Collect material through all your senses.
Interview for deeper meaning, not for only meaning.
Watch for a contemporary action line that will make the story dramatically coherent.
Collect overheard dialogue.
Look out for details of status/hierarchy.
Note gestures and bodily features to render the subject physically.
Watch for small events and details that evoke the story's themes.
These tips provide a helpful prompt for journalists looking to re-imagine their work through the lens, and practice, of ethnography. To more fully explore what ethnography is, and how reporters might apply its theories and methods to their own work, here is a selection of helpful, practical and recent resources:
Example Coverage
Muslim Asylum Seekers Face a Unique Plight at the US-Mexico Border
By Ken Chitwood, New Lines Magazine
April 6, 2023
(New Lines) – It's late afternoon in Tijuana, and the air is hot and thick. Hamza — a slight Ghanaian man in his 20s — rests in the back of a white pickup truck parked outside a migrant shelter. Six other men sit with him. They hardly exchange a word. Instead, they stare at the rusted steel fence some 700 feet away that marks the U.S.-Mexico border. All hope to someday cross that border, claim asylum in the States and start a new life. Physically close, they are still so far away.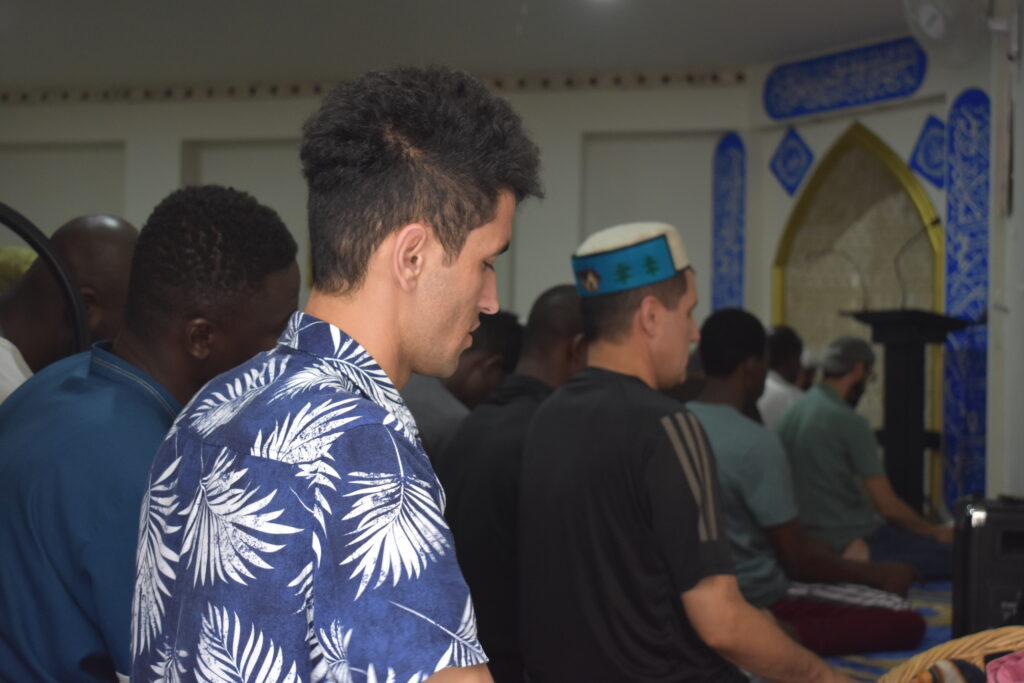 It has been a long, difficult journey for Hamza. (Like other migrants interviewed for this story, he asked that New Lines publish only his first name, out of his fear of legal repercussions.) Four months earlier, he had left Ghana for Brazil, hoping to make his way to the U.S. and find a job that would allow him to send enough money back home to support his growing family. His departure was on the Eid al-Fitr holiday — an auspicious time for many Muslims. The next day, his daughter, Fatima, was born.
Without a visa to travel beyond Brazil, it took Hamza three arduous months to make his way to Mexico. First, he traversed the Amazon and cut across Colombia. Then he walked over mountains and waded through rivers to reach Panama. To get through Costa Rica, Nicaragua, Honduras and Guatemala, he mostly hitchhiked and took buses.
When he finally crossed the border into southern Mexico, he paid smugglers to help him navigate 160 miles along the treacherous route known as the Migrant Trail. Along the way, he tells me, he dodged Mexican immigration agents and bandits, saw dead bodies hidden in the bush and witnessed men being beaten and women sexually assaulted. He scarcely ate or drank and often felt so weak he could barely carry on.
Eventually, he arrived at Arriaga, a municipality in Chiapas, Mexico's southernmost state, where he took one of the many freight trains that thunder north toward the U.S. border. To survive, he had to trust the smugglers and others with whom he traveled. None was from Ghana. None shared his faith. Most spoke only Spanish. Though Hamza speaks fluent English, he does not understand even basic Spanish. To communicate, Hamza said, "I had to rely on gestures and facial expressions."
When he finally made it to Tijuana, Hamza spent a month bouncing from shelter to shelter, struggling with the language and culture as he tried to find a legal way into the U.S. He missed his home and family. He longed for the comforts of halal food and his daily cycle of prayer, which he struggled to maintain. Like the other Muslim migrants he would soon encounter in Tijuana, he felt lost — but also that he had no choice but to carry on.
Tijuana has long been a hub for migrants. Hundreds of thousands arrive there annually before trying to cross the border into the U.S. There are no publicly available statistics on the number of Muslims among them, but Hamza is far from the only one. Humanitarian organizations like the Latina Muslim Foundation of San Diego can say only that they are noticing more and more Muslim migrants — from Chechnya, Afghanistan, Syria, Yemen and elsewhere — passing through Mexico as they make their way north.
Whether leaving home because of war, politics or lack of opportunity, every migrant faces steep obstacles in trying to enter the U.S., from the threat of kidnapping, extortion and arrest along the route to the convoluted U.S. immigration and asylum systems. But Muslim migrants in particular also face additional hardships: language and cultural barriers, religious discrimination and Islamophobia.
At the same time, legal pathways for migrants have shifted constantly from one U.S. administration to the next. President Barack Obama prioritized deporting migrants with criminal records while offering a way for some undocumented immigrants, namely those who came to the U.S. as children, to become citizens.
The Donald Trump administration terminated many of Obama's programs and adopted a stricter stance. It infamously separated thousands of children from their parents at the border, leading to widespread protests and a series of court battles that ultimately overturned the policy. It also required certain asylum seekers to wait in Mexico while their cases were processed, effectively barring claims for tens of thousands of people.
The Joe Biden administration ended that so-called "Remain in Mexico" policy but has still expelled millions of migrants to Mexico or their respective home countries, thanks to Title 42, a rarely used section of U.S. code employed by President Trump during the COVID-19 pandemic. While the current administration sought to end these restrictions, U.S. courts prevented it from doing so. Title 42 is likely to end next month and, while the White House expanded opportunities for migrants from certain countries, it also proposed new rules intended to prevent a more general surge at the southern border. Asylum seekers and other migrants without valid documentation, for instance, have to use a new mobile app to schedule appointments for U.S. authorities to consider letting them cross the border. The proposed regulations would mean that migrants like Hamza could be quickly turned away or deported if they try to cross without prior authorization.
The end result, says Sonia Tinoco García, the founder and president of the Latina Muslim Foundation and its Tijuana shelter, Albergue Assabil, which caters to Muslim migrants, is even more confusion, frustration and uncertainty. That's especially true for those like Hamza, who don't speak Spanish and struggle to keep up with ever-changing rules in the U.S.
"The situation," she tells me, "changes all the time."
Resources for further exploring ethnographic journalism
Learn more about ethnographic journalism and other forms of immersive reporting from the resources below:
Content and funding
This content was developed by ReligionLink Editor, Ken Chitwood with editorial guidance from Judith Golub and Mary Gladstone.
This Reporting Guide was produced with funding from the Center for Religion and Civic Culture (CRCC) at the University of Southern California, as part of their "Spiritual Exemplars Project," supported by the John Templeton Foundation and Templeton Religion Trust.