Judaism is among the world's oldest religions, emerging in the Middle East more than 4,000 years ago. Like most world religions, it is not frozen in form but is constantly affected by the times in which its followers live.
This resource provides journalists with background information on Judaism and a brief guide to covering Jews in America. Additional international resources have been added to help users find sources about Judaism anywhere in the world.
Background
Overview
Judaism is the oldest surviving monotheistic religion, and the faith of the Jewish people. With a history spanning more than 3,000 years, the faith came to be called Judaism after the sixth century B.C. and was centered in Jerusalem on the belief that God revealed himself through Abraham, Moses and other prophets. 
Traditional Jewish beliefs hold that each person is created equally in God's image and is responsible for his/her actions and choices. These beliefs and others have had a powerful influence on later religious traditions such as Christianity and Islam.
The Jewish people come from many different races and nations and do not necessarily share the same cultural traits or ancestry. In that sense, Jews are considered an ethno-religious group, including those born into Judaism and converts.
Largely due to a history of severe persecution and exile, the religion has dispersed throughout the world over the last 2,000 years. Today there are about 6 million Jews in the United States, and about 14 million worldwide, which is about 0.2 percent of the world's population.
Branches & groups
There are three major branches of Judaism. They divide theologically on whether they believe the Torah was written by God or written by people:
REFORM JUDAISM developed in the United States in the mid-19th century and is founded on the belief that Judaism must respond and change with the times. It was the first branch of Judaism to ordain women as rabbis and cantors and today welcomes Jews of all sexual orientations and demographics, as well as converts to Judaism. It also recognizes children of interfaith families as Jews, regardless of which parent is Jewish, so long as the child is raised as a Jew.
Reform Jews believe that the spirit of Jewish law can be adapted to the time and place, so they tend to emphasize social justice issues more than dietary laws. They are the largest branch in America and the smallest in Israel. They are represented in the U.S. by the Union for Reform Judaism and the Central Conference of American Rabbis. The Religious Action Center speaks out on public issues. The Union for Reform Judaism says that the Torah was written by people but inspired by God.
Example coverage
"Same-Sex Interfaith Couples Face Roadblock to Marriage in Judaism" — January 30, 2015, Mark Oppenheimer, The New York Times
SOMERVILLE, Mass. — When Julia Spiegelman and Erina Donnelly, two teachers who met as undergraduates at Bryn Mawr, became engaged, they were looking forward to planning a wedding that included elements from both of their religions.

Ms. Spiegelman grew up attending a Reform synagogue in Andover, Mass., and Ms. Donnelly was raised a Roman Catholic.

The two women attend Jewish and Catholic services together, and they had hoped to find marriage officiants from both religions, which they did not think would be difficult. Most non-Orthodox rabbis officiate same-sex weddings, and while they could not expect to find a Catholic priest to officiate, they planned to ask a layperson from Dignity/Boston, a community of gay, lesbian, bisexual and transgender Catholics, to take part. — Read more.
Reform Judaism Sources
The Central Conference of American Rabbis consists of Reform rabbis. Steven A. Fox is chief executive.

The National Association for Temple Administration is the professional organization for administrators, managers and executives of Reform synagogues. Livia Thompson is president.
ORTHODOX JUDAISM Orthodox Judaism is considered the oldest form of the religion. In general, it is characterized by a more literal and stringent adherence to Halakhah, or Jewish religious law, than other branches. But there is a spectrum of Orthodoxy, with the Haredi on the far right and the so-called Modern Orthodox on the left. The Haredi (the word is Hebrew and means "to tremble in awe before God") are sometimes called the Hasidim or the "ultra-Orthodox," though they consider the latter term derogatory. The Modern Orthodox movement attempts to adapt – up to a point – Halakhah to the demands of contemporary society.
Orthodox Jews typically practice strict adherence to traditional Jewish laws based on the Bible, including the kosher dietary laws that prohibit such things as eating meat and dairy products together. They are the smallest branch in America and the largest in Israel. Most U.S. Orthodox congregations are represented nationally by the Union of Orthodox Jewish Congregations of America, with most of its rabbis members of the Rabbinical Council of America. Orthodox tradition holds that the Torah was dictated by God to Moses, letter by letter.
HASIDISM is a movement within Orthodox Judaism founded by 18th-century mystics. Men wear beards, sidelocks, black hats and long coats, and are characterized by strict adherence to Jewish laws and metaphysical theology. Hasidic Jews do not often integrate into modern, mainstream society, but prefer to live in separate Hasidic communities.
The Chabad-Lubavitch movement is a branch of Hasidism that emphasizes reaching out to non-practicing Jews. It is one of the largest Hasidic groups within the Orthodox branch of Judaism. It is based in the Brooklyn borough of New York City, and its followers are students of a line of seven rabbis, the last of which was Rebbe Menachem Schneerson, who died in 1994. Outside of New York and Israel, Chabad is primarily known for the international network of "Chabad Houses" it runs in places large (Paris, Prague, Pittsburgh) and small (Big Sky, Mont.; Fairbanks, Ala.; Rogers, Ark.), where Chabad rabbis and their wives work to reconnect Jews to their faith traditions and roots. The website has a state-by-state list of Chabad houses in the U.S. Contact via website.
The Rabbinical Council of America is an organization of Orthodox rabbis, most of whom are Modern Orthodox. Rabbi Leonard Matanky is president. It is based in New York City.

The Orthodox Union is the educational and outreach arm of Orthodox Judaism. It is generally considered a Modern Orthodox organization. Among its main concerns is helping Jews keep kosher and strengthening their traditional rituals, practices and holiday observances. It posts a page that allows users to search for Orthodox synagogues by state. Rabbi Steven Weil is senior managing director.
CONSERVATIVE JUDAISM arose out of Germany in the mid-19th century and took root in America. It is a blend of the traditional practice with the progressive, centered on the idea that Jewish law – Halakhah – is binding but must evolve to meet the times.
Conservative Jews follow a middle path between Reform and Orthodox Judaism and are the second largest branch in both America and Israel. They are represented by the United Synagogue of Conservative Judaism and the Rabbinical Assembly.
RECONSTRUCTIONIST JUDAISM is the newest branch of Judaism, developed in America as an offshoot of Conservative Judaism in the mid-20th century. It is built upon a more naturalistic idea of God – one who is not personal – and on the belief that Jewish law is subordinate to secular, contemporary morality.
Reconstructionism emphasizes culture and community and rejects some tenets of traditional Judaism. It is represented by the Jewish Reconstructionist Federation, which calls itself the umbrella organization of progressive Jewish congregations and counts more than 100 congregations with 16,000 member households. It maintains a state-by-state directory of member congregations.
JEWISH RENEWAL is a progressive movement within Judaism that seeks to revitalize traditional Judaism by infusing it with mystical and meditative practices drawn from Hasidic Judaism and other mystical sources.
Aleph: Alliance for Jewish Renewal is an umbrella organization of Jewish groups dedicated to religious renewal of Judaism. It maintains a directory of affiliate communities. The main offices are in Philadelphia.

Ohalah, the Association of Rabbis for Jewish Renewal, is associated with Aleph and is designed to link Renewal rabbis and cantors with members of the Jewish community. On its website are lists of people, synagogues and organizations committed to Jewish renewal. It is based in Las Vegas.
BLACK HEBREWS also known as Black Hebrew Israelites, African Hebrew Israelites and Hebrew Israelites, believe they are the descendants of the ancient Israelites. Black Hebrews are often not accepted by the wider Jewish community and many choose to self-identify as one of the above names as opposed to Jews. Several Black Hebrew groups were founded in the late 19th and early 20th century. These groups vary in their structure, theology and adherence to traditional Jewish practices and beliefs.
John L. Jackson Jr. is the Richard Perry University Professor of Communication, Africana Studies and Anthropology in the Standing Faculty of the Annenberg School for Communication and the Standing Faculty of the School of Arts and Sciences at the University of Pennsylvania. He has researched the beliefs and practices of Black Hebrews.
Example Coverage
Should ultra-Orthodox Jews be able to decide what they're called?
By Lauren Markoe, Religion News Service
Feb. 6, 2014
(RNS) Much of the world calls them the "ultra-Orthodox."
But a growing number within the community of strictly observant Jews are asking journalists and others to reject the term.
Some feel it suggests extremism. Groups should get to choose their own names, they argue, and what community would choose to call itself "ultra" anything?
"The term should be removed from journalistic writing because the people that it refers to find it pejorative," said Rabbi Motti Seligson, a spokesman for Brooklyn-based Chabad, one of the largest of the groups commonly referred to as "ultra-Orthodox."
It's not just a question for observant Jews. The Church of Jesus Christ of Latter-day Saints would like its members to be called "Latter-day Saints" but they've accepted the better-known "Mormon." Some Native Americans say the Washington Redskins name is offensive and shouldn't be used, but owner Dan Snyder isn't swayed. Some gays and lesbians prefer the term "queer," while some blacks prefer "African-American" and reject the once-acceptable "Negro."
"The word has come to mean 'beyond the norm' and we consider ourselves the norm," said Rabbi Avi Shafran, director of public affairs for Agudath Israel of America, the leading umbrella organization of these fervently Orthodox Jews.
"Ultra-Orthodox" is inaccurate, he said. "We are traditional Jews who hew to the practices and attitudes that our grandfathers and grandmothers and their grandfathers and grandmothers hewed to." He and Seligson suggest a different term: "traditional Orthodox."
But to outsiders, Jewish or not, these Jews seem far beyond traditional.
In some sects, the men wear tall black or fur-trimmed hats, black suits and sidelocks. Women are covered in long skirts and long-sleeved tops no matter the weather, and hide their hair under wigs or scarves. Marriages are often arranged. They often do not watch television, or read secular books, and contact with the outside world is often limited. Families with seven or more children are not unusual.
And though they are sometimes referred to as the "devoutly Orthodox," or by the Hebrew term "Haredi," or the more slang "black hats," the "ultra-Orthodox" label prevails.
It has served a practical purpose, said Ari Goldman, a professor at Columbia University's Graduate School of Journalism and former religion reporter for The New York Times. "It's a term that distinguishes part of the Orthodox community from the rest of the Orthodox community."
Judaism divides itself into three main branches: Reform, Conservative and Orthodox. The Orthodox make up the smallest branch in the U.S. — 10 percent of the 6.7 million American Jews, according to a recent Pew Research Center study – and are those who most closely follow the letter of Jewish law. Among the Orthodox, the fast-growing "ultra-Orthodox" are the most likely to live in tight-knit communities that insulate themselves from the larger world.
Goldman doesn't see "ultra-Orthodox" as a pejorative word, though. "Ultra," he points out, doesn't have to be negative:  "ultra-pasteurized," for example. But he also calls for "sensitivity" to Haredi groups — or "Haredim" — who request an alternative name for themselves.
"If it bothers them, then I think it's worth examining," he said. In longer pieces, he suggests, a writer could use a term they prefer, and then explain that it describes those commonly called "ultra-Orthodox," noting that it is a label they dislike.
But in shorter pieces that require no more than a quick reference to the group, it's harder to get around the shorthand, widely recognized "ultra-Orthodox," Goldman added. "I would fall back on the formula because it's something readers know."
The New York Times, like most American news organizations, uses the word "ultra-Orthodox," though it will also refer to "Haredi" groups and "Hasidic" communities, a subset of the Haredim. The New York-based Jewish Daily Forward, one of the foremost Jewish news organizations, also uses these terms.
Many of the Haredim do not care what others call them. 
They are in insulated communities focused on their spiritual lives, or they don't think they can ever get a fair hearing from outsiders who publish stories that depict them as strange, or, in recent years, reluctant to confront the sexual offenders among them.
"The Haredi world doesn't expect much from the world around it," Shafran said.
But he and other Haredim accustomed to dealing with non-Haredim say it's worth trying to replace "ultra-Orthodox," and would like to see English speakers adopt "traditional Orthodox."
That would distinguish them from the Orthodox who blend more into the secular world and who commonly refer to themselves as "modern Orthodox" (think former Sen. Joe Lieberman) or "centrist Orthodox." New York's Yeshiva University, for example, where the students tend to look like college students everywhere, except for the omnipresent yarmulkes, is inspired by a modern Orthodox philosophy.
Samuel Heilman, a sociology professor at New York's Queens College who has written extensively about the Haredim but himself falls into the modern Orthodox category, said "traditional Orthodox" poorly describes the Haredim.
"Number one, they're not traditional." Many customs of the Haredim developed relatively recently in the history of Judaism, he said. "They've invented traditions."
He sees the initiative to change the name as driven by Chabad, which distinguishes itself among the Haredim by inviting Jews around the world to ritual meals and holiday celebrations regardless of their level of observance. That outreach was a teaching of Chabad's beloved leader, Rabbi Menachem M. Schneerson, who died 20 years ago. Heilman's award-winning biography of Schneerson, "The Rebbe," has angered many in Chabad who criticize its scholarship and consider it disrespectful to a leader who some believe is the Messiah.
"Ultra-Orthodoxy has a bad reputation in the non-Orthodox world," a world in which Chabad is deeply embedded, said Heilman.  The word "ultra-Orthodox," he continued, "is certainly not a good trademark for an outreach organization. They have a strong interest in getting that word out of the lexicon."
The New York-based Jewish Telegraphic Agency is one media outlet that is willing to oblige. At the 97-year-old wire service, JTA editors have asked reporters to stop using "ultra-Orthodox" in their copy. Instead, they use "Haredi" or "Haredi Orthodox."
"I do not accept the premise that 'ultra' is an inherently negative word, or that the use of the term 'ultra-Orthodox' has contributed to any negative impressions that some people may have about segments of the Orthodox community," said Ami Eden, JTA's editor-in-chief.
"That said, we believe that whenever possible we should refer to communities the way that they refer to themselves and would like to be identified by the wider world." 
Celebrations
Major holidays
High holy days
Judaism's High Holy Days are a 10-day period of prayer and atonement that starts with Rosh Hashanah, the Jewish New Year, and ends at the close of Yom Kippur, the Day of Atonement. Throughout this observance, Jews across the denominational spectrum, including many who are nonobservant, will attend synagogue, recite ancient prayers (often in Hebrew) and fast during certain times.
Passover
Passover, celebrated in late March or early April, commemorates the freeing of the Israelites from Egypt under Moses' leadership. 
Families typically observe Passover with a meal called a seder, in which the story of the Exodus is retold. 
Hannukah
Hanukkah, also called the Jewish Festival of Lights, lasts for eight days and celebrates the Maccabees' victory over the Syrians in the second century B.C. 
Hanukkah usually falls in early or mid-December. 
Other holidays
Most congregations also observe Yom Ha-Shoah, Holocaust Remembrance Day, in March or April.
According to the 2000-2001 National Jewish Population Survey, most Jews observe major religious holidays, with 77 percent taking part in Passover seders, 72 percent lighting Hanukkah candles and 59 percent fasting on Yom Kippur.
Example Coverage
"Tu B'Shevat 2015: What To Know About Jewish Holiday Marking Spring And The New Year For Trees" — February 3, 2015, Elizabeth Whitman, International Business Times
Sundown Tuesday marks the 15th of Shevat in the Jewish calendar, the time when winter begins to fade and fruit trees begin a new cycle of production. It's a festive occasion, if a lesser known one, with wine, cakes and cookies and a candle-lit atmosphere, and is sometimes referred to as the Rosh Hashanah, or the Jewish New Year, for trees.

The term Tu B'Shevat is Hebrew. Tu is the word for fifteen, Shevat is the name of the month. The day is also referred to as Jewish Arbor Day. Tu B'Shevat is passed by eating fruit native to the Holy Land, like olives, grapes, pomegranates and dates, as well as saying blessings and drinking wine.  The day has a long history with a host of customs dating back to the time of the Temple. — Read more.
Thanksgiving and Hanukkah converge on "Thanksgivukkah" for the first time since 1888
By Lauren Markoe, Religion News Service
Oct. 29, 2013
(RNS) It last happened in 1888 and, according to one calculation, won't happen again for another 77,798 years: the convergence of Thanksgiving and Hanukkah.
This year, Nov. 28 is Thanksgiving and the first full day of the eight-day Jewish festival of lights, which begins at sundown the previous night.
For many Jewish Americans, this is no trivial convergence, but a once-in-an-eternity opportunity to simultaneously celebrate two favorite holidays, one quintessentially American, the other quintessentially Jewish.
Earlier this year, when the rarity of the synergy began to dawn on American Jews, they began concocting "Thanksgivukkah" mash-ups.
– 9-year-old Asher Weintraub of Brooklyn, N.Y., invented a "menurky," a turkey-shaped menorah — or Hanukkah candelabra – and has sold more than 1,500 of them.
– Jewish cooks have created recipes for everything from pumpkin latkes (Hanukkah's signature potato pancake) to turkey brined in Manischewitz (the syrupy kosher wine Jewish Americans love to make fun of but drink anyway.)
– Rabbi David Paskin of Norwood, Mass., co-wrote "The Ballad of Thanksgivukkah," which manages to rhyme "latkes" with "religious minorities."
"It's fun, and let me go on record on saying that 'fun' is a good thing," Rabbi Rick Jacobs, head of the congregational arm of Reform Judaism in North America, said of the hybrid holiday.
Jacobs isn't the only Jewish American to note that Hanukkah and Thanksgiving align not just in time, but thematically. They both celebrate religious liberty: The Pilgrims sought religious freedom in the New World, and the ancient Jews' triumphed over Greek oppressors who had banned the practice of Judaism.
"To me, that is such a beautiful and powerful linkage of the two holidays and I hope we get to celebrate that as well as cranberries on our latkes," Jacobs said.
Or, as Rabbi Tzvi Freeman recently wrote on the website Chabad.org:
Thanksgiving is "a narrative about an arduous journey to escape religious persecution for freedom in a new land, the establishment of a democratic charter and the sense of Divine providence that carried those refugees through their plight."
"That's Chanukah, as well," Freeman continued. "A narrative deeply embedded in the collective Jewish psyche of how we fought back against religious oppression in our own land, earned our freedom and thanked G‑d for the miracles."
The miracle of Hanukkah is set in the 2nd century B.C., when a small band of Jews, the Maccabees, triumphed over the forces of King Antiochus IV.
As the Maccabees rededicated the desecrated Temple in Jerusalem, a small quantity of oil, enough to last for only one day, miraculously burned for eight, which is why Jews light the candles on the menorah for eight nights.
The quirk of Thanksgivukkah is that the Hebrew calendar, which follows the sun and the moon, and the Gregorian calendar, where Thanksgiving sits on the fourth Thursday of November, has aligned this year so that the two holidays are on the same day for the first time since 1888, 25 years after President Abraham Lincoln declared Thanksgiving a holiday.
As for the long stretch before this will happen again, credit for the calculation goes to Jewish American physicist Jonathan Mizrahi, who explained in a blogpost in January that the Jewish and Gregorian calendars are drifting apart in such a way as to separate Thanksgiving and Hanukkah for more than 70 millennia. (Others who have also done the math note that the first night of Hanukkah — remember, the holiday begins at sundown — will converge with Thanksgiving as early as 2070.)
For many Jews, Thanksgiving and Hanukkah are a much better fit than the holiday Hanukkah often coincides with: Christmas. The somewhat tongue-in-cheek term "Chrismukkah," a celebration that invokes both traditions, can be fun for college roommates of different faiths or Jewish-Christian families.
But for Jews who feel that the Christmas season overwhelms Hanukkah, or even that the relatively minor holiday of Hanukkah gets over-hyped to compete with Christmas, the idea of a Christmas-Hanukkah hybrid doesn't always sit well.
But Thanksgivukkah? It's not going to outlive Chrismukkah, but while it's here, Jewish Americans are going to make the most of it.
The term was actually trademarked, by Dana Gitell of Boston, who thought it up last year as she drove to her marketing job at an elderly care agency, and began brainstorming ways Thanksgiving and Hanukkah could dovetail.
"There are so many interesting and playful cultural juxtapositions that come to mind," she said. With her sister-in-law, Deborah Gitell of Los Angeles, she created aThanksgivukkah Facebook page, printed T-shirts and enlisted artist Kim DeMarco to draw a "Happy Thanksgivukkah" poster, a spoof on "American Gothic" that features a Hasidic man as the farmer who holds a menorah instead of a pitchfork.
In keeping with Thanksgiving's emphasis on thankfulness, and the Jewish requirement to give "tzedakeh," Hebrew for charity, 10 percent of the profits from the Thanksgivukkah wares will go to MAZON, a Jewish anti-hunger group.
The sisters-in-law are also throwing a giant Thanksgivukkah party in Los Angeles on Nov. 29.
But not everyone loves Thanksgivukkah, according to Comedy Central's Stephen Colbert, the self-described the "pope of basic cable."
"How dare you, Hanukkah!" he mock-protested.
"Pretty soon school kids will think Thanksgiving started when the Wampanoags sat down with the Maccabees and the yams lasted for eight nights." 
Scripture
Overview
Torah is the name for the first five books of the Hebrew Bible — Genesis, Exodus, Leviticus, Numbers and Deuteronomy. 
Jews also commonly refer to the entire Hebrew Bible as the Torah. (Tanakh is the technical name for the Hebrew Bible, but even Jews don't use the term frequently.) The Hebrew Bible has the same content as the Christian Old Testament, but it numbers and arranges some of the books differently. 
There are 24 books in the Hebrew Bible, arranged in three sections: the Law, the Prophets and the Writings. The Old Testament splits some books into two, so that there are 39 books, and changes the order. Different translations of the Torah are preferred by different groups within Judaism. 
It is believed that God appeared to Moses at Mount Sinai to reveal his laws in the form of the written and oral Torah, which contains 613 commandments.
The Talmud is a collection of ancient rabbinic commentary that elaborates on how to follow the rules set out in the Torah. It was written from the third to fifth centuries. Orthodox Jews consider it as important as the Hebrew Bible.
Midrash refers to explanations and stories about the Torah written during the first millennium. It suggests interpretations and fills in the gaps between the details and stories laid out in the Torah.
Read the full text of the Jewish scripture the Tanakh, posted by Jewish Virtual Library.
Example Coverage
"King's Torah splits Israel's religious and secular Jews" — July 19, 2011, Yolande Knell, BBC
Hundreds of right-wing Jews have taken part in demonstrations outside Israel's Supreme Court over the brief detention of two prominent rabbis in the last few weeks.

There were clashes with police on horseback on the nearby Jerusalem streets and several arrests were made.

Rabbis Dov Lior and Yacob Yousef had endorsed a highly controversial book, the King's Torah – written by two lesser-known settler rabbis. It attempts to justify killing non-Jews, including those not involved in violence, under certain circumstances. — Read more.
This Memorial Day, a new prayer book for Jewish soldiers and sailors
By Lauren Markoe, Religion News Service
May 21, 2014
(RNS) Jewish soldiers and sailors will read from a new prayer book this Memorial Day, one that aims to satisfy Jews across the spectrum of Jewish practice — a feat its predecessor did not achieve.
To show off its broad appeal, the new camouflage-covered prayer book will be inaugurated during services this weekend in three New York City synagogues representing the three largest branches of Judaism: Orthodox, Conservative and Reform.
"We have done some historical research, and there has never been a time that three such disparate synagogues have used the same prayer book," said Rabbi Harold L. Robinson, a retired rear admiral who is director of the Jewish Welfare Board's Jewish Chaplains Council.
The Army's 29 Jewish military chaplains have often preferred their particular tradition's prayer book to any other's. At the U.S. air base in Ramstein, Germany, Robinson peeked into the chapel storeroom and found copies of every movement's prayer books going back a generation – proof to him of the need for a new prayerbook.
"We wanted a book that was small enough for them to own personally, and complete enough so that rabbis of every perspective would use it," Robinson said.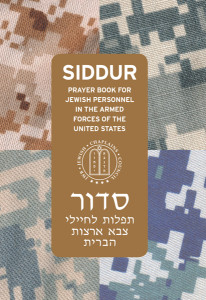 In Hebrew and English, the new pocket-sized, 650-page prayer book, known as a "siddur" in Hebrew, includes prayers for daily use, for Shabbat (the Jewish Sabbath) and for holidays. The chaplains council paid for and published it, charging a team of Orthodox, Conservative and Reform rabbis to include language from each movement's standard prayer books.
The aim was an inclusive book, but one that would not offend anyone either.
Not all Jewish military chaplains will turn to  it all the time, said Rabbi Mitchell Rocklin, an Orthodox rabbi with the 395th Combat Sustainment Support Battalion, an Army Reserve unit based in Middletown, Conn.
"It's not like this is the M16 the military issues, and that's what you have to use," said Rocklin, who served on the committee that edited the siddur. "The idea is to work out the best prayer book we can. No one is going to be overjoyed, but almost everybody will be able to use it."
For the Orthodox, for example, whose observance strictly follows Jewish Scriptures and oral traditions, the new prayer book includes a more complete morning service and a full grace after meals, as opposed to the abbreviated versions found in the last siddur.
On the other side of the Jewish spectrum, the Reform movement, from which Robinson hails, wanted a siddur using egalitarian language. The Reform and Conservative movements have long ordained women rabbis; the Orthodox movement historically has not.
In Reform and Conservative synagogues, there is frequent acknowledgment not only of the Hebrew Bible's patriarchs — Abraham, Isaac and Jacob — but of the matriarchs or "imahot" — Sarah, Rebecca, Rachel and Leah.
The prayer book also includes two things found in most Jewish prayer books: a prayer for the United States and a prayer for Israel.
A prayer for another nation in a prayer book for American soldiers and sailors?
The old siddur had one too. "If somebody chooses to wear the uniform of the United States of America, and to swear loyalty to the United States of America, and to risk their life for the United States of America, there is no dual loyalty issue," Robinson said.
The siddur, six years in the making, will have a first run of 11,000 copies. It is free to any chaplain in the military or Department of Veterans Affairs who requests it. 
Demographic Information
Resources
Example Coverage
'Israeliness' may be the answer for secular American Jews
Miri Belsky
Oct. 21, 2013
(RNS) The recent Pew survey of American Jews caused a fluster in the organized Jewish community.
The survey raises a number of questions about the efficacy of Jewish institutions, leaving professionals and donors alike in a position of uncertainty regarding their investments in the Jewish future. But while traditional American Jewish organizations regroup, a growing movement in the community remains largely overlooked.
In major metro areas across the United States such as Los Angeles, New York, Miami and Boston, Israeli-American organizations are popping up and growing in popularity. Programs centered on Israeli culture and Jewish identity for families, young adults and children have swelling appeal.
Participation in these Israeli-American organizations is increasing rapidly, and not only among Israeli expats and their children. American Jews join Israeli programs related to Hebrew language, Jewish education, and creating connectedness to Israel through the arts, music, literature, and tradition.
The American way of practicing Judaism is largely based on attending synagogues and affiliating with religious congregations across the denominations. What it does not offer are substantial alternatives for Jewish involvement in a secular way. The phenomenon of growing Israeli communal life in the United States offers a new model for American secular Jews to express their Judaism without needing to belong to a synagogue or religious institution.
In Los Angeles, the Israeli American Council reached over 50,000 members of the Israeli-American community last year with its Israeli-tailored programming. The organization's flagship event, the Celebrate Israel festival — now the largest Jewish festival in North America — turned out about 15,000 people, half Israeli-Americans and half American Jews.
Other Israeli-style holiday festivals with a focus on family activities, Israeli performances, and Israeli or Jewish customs attract thousands and reflect a similar demographic split.
The trend continues through the young professional program BINA, targeting the age group of American Jews who are least connected to Judaism according to the Pew report. The IAC's success, in fact, led to its recent expansion across the United States.
American Jews in New York have also recently been showing a growing interest in Israeli educational programs, such as "Israeliness" at the 92nd Street Y, among others.
Upon a closer look, perhaps these developing programs, which are almost entirely secular in nature, are the new avenue for secular American Jews to connect to their Jewish identity.
The Pew results revealed that 70 percent of American Jews feel very attached or somewhat attached to Israel, and more than 60 percent believe Judaism is about culture, ancestry and identity. What better environment to cultivate those feelings and transform them into strong connectedness to one's Jewish roots than among secular Israelis?
Although Israelis living in the United States may have left the Jewish nation state, many maintain their deep love of Israel. And they do everything they can to ensure their children will inherit that love through Hebrew culture, Jewish knowledge, and political awareness. As Israeli expats strive to instill a secular Israeli identity in the next generation, many American Jews find themselves relating. Perhaps it is the "Israeliness" rather than the Jewishness of this community that attracts them, making organized cultural Judaism accessible in a new and relevant way.
American Jewish leaders have responded to the Pew survey with a number of calls, including alternative venues for Jewish identity.
Well, look no further. The Israeli-American community may just be the answer. 
Notes on Coverage
General guidelines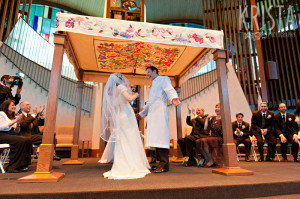 The number of Jews in the U.S. and worldwide is declining. For this reason, many Jews are focusing on reducing rates of intermarriage, which often results in children who are not raised as Jews; encouraging childbearing; strengthening Jewish education for children and adults; countering attempts at conversion; and reaching out to secular Jews who are not observant.
The generation of Jews who survived the Holocaust is dying out, adding urgency to how the experience is described and relayed to younger generations. Anti-Semitism continues to be an issue in the United States and worldwide. In 2015, Europe, especially, saw its resurgence.
Coverage tips
Jews observe their Sabbath from sundown Friday to sundown Saturday. In fact, all days and holidays on the Jewish calendar run from sundown to sundown.

Jewish congregations worship in synagogues and temples. Many Reform congregations use the latter term, while Orthodox and many Conservative Jews believe the word temple can refer only to the temple in Jerusalem, which was destroyed in 70 A.D. and which Jews hope to rebuild. Do not call a Jewish congregation a temple unless it uses that word in its name.

Be aware that Judaism is as much a culture as a theology. Most Americans who consider themselves Jewish have little or no affiliation with any synagogue. Modern Jewish literature sometimes describes Judaism as a "peoplehood," reflecting the combination of faith, inherited tradition and culture. So one can be a secular Jew, though "secular Christian" makes no sense.

Reform Jews ordain women as rabbis, but Orthodox Jews do not. Conservative Judaism also has female rabbis, though far fewer than Reform.

Many issues of importance to Jews involve a mix of political, religious and social factors. Be aware that religion is part of conflicts such as those in the Middle East, but that the high number of secular (or cultural) Jews means that religion is not necessarily the only, or most important, factor.

Messianic Jews, who believe that Jesus is the Messiah that Jews await, consider themselves Jewish, but the vast majority of Jews don't. This is a highly sensitive issue, and journalists should refrain from listing Messianic Jewish services in the same category as other Jewish services or referring to them in stories without explanation. Messianic Jewish leaders use the title of rabbi, which is offensive to traditional Jews.

Reporters face a choice when addressing issues involving Judaism — should I consult an Orthodox, Conservative or Reform rabbi for the story? This depends greatly on the issue. If the story involves dietary laws, community responses to new populations of observant Jews or similar topics, an Orthodox spokesperson would be most likely be appropriate. If the story addresses social topics like same-sex marriage or female clergy, however, a source from the more liberal community would be more useful. In other cases, use your judgment — some Conservative rabbis disagree with their sects and can add valuable insight on issues that are considered progressive.

Take care with language. Phrases that minimize or mock Nazism or the Holocaust, such as feminazi, are considered insensitive. Avoid using Jewish rabbi  or Jewish synagogue – these are redundant. Keep in mind most Reform congregations are called temples.

Use Hebrew Bible instead of the Christian term Old Testament unless it is necessary to differentiate between the two testaments.

Avoid the term ultra-Orthodox to describe very observant Jews so as not to lump the diversity of religious observance into one group. The term Haredi is preferable in many cases.

Use caution when reporting on "Hebrew-Christian" groups, such as Jews for Jesus or Chosen People Ministries. These groups employ Christian missionary tactics and are viewed with skepticism by many in the Jewish community.
Example Coverage
ShivaConnect helps Jews navigate the mourning period
By Ann Marie Somma, Religion News Service
Oct. 24, 2013
SIMSBURY, Conn. (RNS) After burying her mother, Sharon Rosen found herself dealing with a problem: deli platter deliveries.  A deluge of them, all ordered by her friends and neighbors as part of the Jewish tradition of providing food for the bereaved during the seven-day mourning period known as the "shiva."
"We had to find a place to donate all the unused food," Rosen said. "I said to myself, 'This is crazy.' There has to be a way to coordinate all of this, to get information to people."
Two and a half years later, Rosen launched ShivaConnect.com, a website that operates like a wedding registry for funeral, memorial and shiva details. The website is searchable by the deceased's name, and visitors can find links for online memorial donations or search for the nearest deli.
There's also an email alert to remind mourners to honor the memory of the deceased on the anniversary of their death, a Jewish tradition known as a yahrzeit.
The aim of the website is to avoid duplication and consolidate the many facets of Jewish mourning.
To date, the site has logged more than 100,000 visits.  Funeral homes, hospices and temples around the country recommend it or list it on their own websites.
"It's a good way to reach families and friends outside the temple, and it helps those in mourning so they don't have to spend hours on the phone," said Howard Herman, a rabbi at the Farmington Valley Jewish Congregation.
Rosen, who lives in Boca Raton, Fla., used her own money to start the website and spent long hours researching and learning the various rituals surrounding the shiva. 
There are helpful hints on how to plan a Jewish funeral and burial and how many tables and chairs to set out during the weeklong mourning period.
A Reform Jew, Rosen never sat shiva until her mother, Dorothy Kurlander, died at age 81. Looking back, Rosen said, building the website helped her deal with her loss.
As she researched items for the site, she came to a deeper understanding of the rituals surrounding the shiva.
"I'm not a particularly religious person, but at the time of death rituals are comforting," she said.
Samuel Green of Abraham L. Green & Son Funeral Home in Fairfield hands out ShivaConnect information cards to his Jewish customers. 
A member of the bereaved family must register on the website and enter funeral and shiva information. Green said the website is helpful, especially the section that lists what food has been delivered to the family from the local deli.
Rosen said the website can assist non-Jews looking to support Jewish friends. And because not all Jewish people mourn alike, there are resources for every branch of Judaism. 
International sources
Asia
The Jewish Community of Japan provides a center for Japan's Jewish population. It hosts regular Shabbat and holiday services, kosher dining and educational services. It is based in Tokyo.
Canada
Jean Duhaime is a professor of theology and religious studies at the Université de Montréal in Quebec, Canada. He is an expert on the Hebrew Bible, the Qumran texts and ancient Judaism. He is the author of The Dead Sea Scrolls and a chapter in Religion in the Extreme called "The 'holy war' in biblical Israel, historical or rhetoric?"

Chaya Halberstam is a professor of religious studies at King's University College in London, Ontario, Canada. Her research focuses on ancient Judaism, with an emphasis on rabbinic Judaism, and the Hebrew Bible. She is the author of Law and Truth in Biblical and Rabbinic Literature.
Europe
Mideast
Oceania
U.S. Sources & Resources
Northwest
South
Midwest
West
U.S. rabbis
U.S. sources
Web resources
U.S. higher education
U.S. history
MUSEUMS

NATIONAL SOCIETIES, ARCHIVES
The American Jewish Historical Society is in the Center for Jewish History in New York City. It is a collection of American Jewish holdings from the 16th century to the present. Paul B. Warhit is president. Contact Nicole Straus.

The Jacob Rader Marcus Center of the American Jewish Archives is the repository for more than 10 million pages documenting American Jewish history. The Cincinnati campus of Hebrew Union College-Jewish Institute of Religion houses the collection. Gary P. Zola is executive director.
STATE, REGIONAL SOCIETIES
GENEALOGY
Organizations, institutions
CIVIL RIGHTS ADVOCACY
DISABILITY ADVOCACY
EDUCATIONAL
ENVIRONMENTAL
HUMANITARIAN
INTERFAITH RELATIONS
The Council of Centers on Jewish-Christian Relations is an association of institutes that work to foster mutual understanding between Jews and Christians. Members are listed on its website. Dr. Ruth Langer chairs the council's board. Contact through the form on the website.

The International Fellowship of Christians and Jews an organization designed to promote cooperation and understanding between Jews and Christians and foster support for Israel. Its founder and president is Rabbi Yechiel Eckstein.

The National Council of Synagogues includes representatives from the Rabbinical Assembly and the United Synagogue of Conservative Judaism, the Central Conference of American Rabbis and the Union of American Hebrew Congregations. The council meets with other major faith groups, such as the National Council of Churches, to discuss issues and concerns. Rabbi Gilbert S. Rosenthal is the NCS executive director.
ISRAEL/PALESTINE
LGBT
MEDIA
Political Advocacy
POLITICAL ADVOCACY
RELIGIOUS/CULTURAL
WOMEN'S
YOUTH
OTHER SOURCES
Bikkurim: An Incubator for New Jewish Ideas is an entrepreneurial organization that supports, develops and promotes new ideas in the Jewish community in North America. It has provided seed money and support to a range of groups, including those that encourage Jewish stewardship of the environment, promote Jewish heritage, produce Jewish music and engage in cross-cultural dialogue. Aliza Mazor is executive director.

The Jewish Peace Fellowship is based in Nyack, N.Y. It was begun in 1941 to defend the rights of conscientious objectors.

The Society for Humanistic Judaism says it "offers a nontheistic alternative in contemporary Jewish life." It was organized in Detroit in 1969 and has since added chapters and affiliated congregations around the United States.
Related source guides
Style guide
ablution

The practice of ritual washing in a religious rite to cleanse a person of sin or disease, to purify, or to signify humility or service to others. In Christianity, baptism and foot-washing are both forms of ablution. In liturgical churches, ablution can refer to purifying fingers or vessels related to the Eucharist. In Islam, ablution is ritual washing, known as wudu, before prayer. In Judaism, immersion in a mikvah is a form of ablution.

angels

Spirit messengers, both good and evil, accepted in the traditions of Judaism, Christianity, Islam and other religions. They appear in the Hebrew Bible, the New Testament and the Quran. Capitalize angel when it precedes a name, such as the Angel Gabriel.

anti-Semitism

A prejudice against people of Jewish heritage. It has inspired the Holocaust, physical abuse, slander, economic and social discrimination, vandalism and other crimes. Religious anti-Semitism is based on the idea that all Jews are eternally and collectively responsible for killing Jesus (known as deicide). It has been formally renounced by most major churches, led by the Catholic Church. Although Muslims revere Jesus as a prophet, they do not make the anti-Semitic claim against Jews because they do not believe that Jesus was crucified. Economic and political anti-Semitism is rooted in widespread 19th- and 20th-century claims that Jews were engaged in a plot to rule the world.

apocalypse, apocalyptic

A final, cosmic battle between forces of good and evil that encompasses the Earth; for religious believers, it ushers in the reign of God and results in the righteous being raised to everlasting life. Apocalyptic thought dates to ancient times and is present in Judaism, Christianity and other belief systems. The New Testament Book of Revelation and the Book of Daniel, found in the Old Testament/Hebrew Bible, are the best-known Scriptures involving apocalyptic prophecies, but other examples exist. Apocalyptic beliefs are most closely associated with Christians who read the Bible literally and with fringe religious movements. Other Christians are more likely to read Revelation as an allegory. Lowercase apocalypse when referring to the battle ending the world, but uppercase when using the traditional Catholic name for the New Testament Book of Revelation, which in Greek means "Apocalypse." The Catholic News Service advises using the New American Bible name Revelation instead of Apocalypse except in direct quotations.

Ark

A special cabinet constructed to house the Torah scrolls containing the Jewish text of the Books of Moses.

Ashkenazi

Pronounced "osh-ken-AH-zee." A Jew of German, Polish, Austrian or Eastern European descent. From the Middle Ages through the mid-20th century, Ashkenazic Jews developed a distinct culture and spoke predominantly Yiddish (a combination of German and Hebrew) or Slavic languages. During the 19th and 20th centuries, as they faced increasing persecution in Eastern Europe, many Ashkenazic Jews migrated to Western Europe and the United States. Since the mid-18th century, Ashkenazic Jews have made up the majority of Jews in the U.S. After the Holocaust, their numbers were drastically reduced in Europe. Many of the surviving Ashkenazic Jews immigrated to France, the U.S. and current-day Israel. They are estimated to make up 80 percent of the world's Jewish population. Ashkenazic Jews are also referred to as Ashkenazim. See Sephardi.

B'nai B'rith

One of the oldest continually operating Jewish service organizations in the world. It was founded in New York City by Henry Jones and 11 others in 1843. The organization is engaged in a wide variety of community service and welfare activities, including promoting human rights, assisting hospitals and victims of natural disasters, and opposing racism and anti-Semitism through its Anti-Defamation League.

bar mitzvah

Means "son of commandment" in Hebrew and Aramaic. A milestone in Judaism in which a person is no longer a child in the eyes of Jewish law and is now responsible for his or her own actions spiritually, ethically and morally. A boy automatically reaches the milestone at age 13, while a girl reaches it at age 12 (bat mitzvah). No ceremony is required to mark the passage, although religious ceremonies and receptions are commonplace.

bimah

The elevated part of the sanctuary in a synagogue or temple where the Torah reader stands and the rabbi leads the service.

brit milah or bris

The ritual circumcision of a male Jewish child on the eighth day of his life or of a male convert to Judaism — acts that are considered to continue the covenant God established with the Jewish people. Bris is the Yiddish term; brit, the Hebrew word, is also used. Brit milah literally means "covenant of circumcision" in Hebrew. There are no mandated rituals for newborn girls. However, many honor the custom of the Simchat Bat (pronounced "SIM-hot Bot"), a naming ceremony at home.

cantor

In Judaism, a synagogue official who leads the musical part of a service. Capitalize before a name, but lowercase otherwise.

Chabad

The official organization of the Chabad-Lubavitch movement of Judaism, which is based in Crown Heights, N.Y. Chabad-Lubavitch is a branch of Hasidism, a movement within Orthodox Judaism founded by 18th-century mystics. Chabad emphasizes reaching out to nonpracticing Jews. The term Chabad comes from an acronym of the Hebrew words for wisdom, understanding and knowledge. See Lubavitch.

Conservative Judaism

A branch of Judaism that usually takes a more centrist position on worship and religious behavior than liberal Reform Judaism and the more traditional Orthodox Judaism. It is the second-largest branch of Judaism in the United States, behind Reform Judaism. See Reform Judaism and Orthodox Judaism.

David, Star of

The six-pointed star that is a symbol of Judaism. The star appears in the center of the Israeli flag. It is sometimes referred to by its Hebrew name, Magen David.

Day of Atonement

See Yom Kippur.

Dead Sea Scrolls

Refers to tens of thousands of fragments of biblical and early Jewish writings that were found in caves in Qumran near the Dead Sea between 1947 and 1956. Scholars dispute their importance but agree they shed light on the culture and beliefs of Judaism between the third century B.C. and the dawn of Christianity in the first century.

Decalogue

Another name for the Ten Commandments, which is the preferred term. See Ten Commandments.

Diaspora

Describes Jews who live outside of the state of Israel. It was first used to describe how Jews were forced to scatter after the Babylonian exile in the 6th century B.C. Do not capitalize unless referring to the Jewish Diaspora.

Ecclesiastes

A book of wisdom in the Hebrew Bible and Old Testament whose author represents himself as King Solomon. Some of its phrases, such as To every thing there is a season, have become part of Western culture.

end times

Lowercase. Generally refers to the time of tribulation preceding the Second Coming of Jesus, though it has parallels and roots in all three Abrahamic traditions (Judaism, Christianity and Islam). Sometimes also called the "End of Days."

eruv

Pronounced "AE-roov." A symbolic enclosure in which observant Orthodox Jews are permitted to perform tasks that would otherwise be forbidden, such as carrying items on the Sabbath and other holy days from one "domain" to another. (The area surrounded by the eruv is considered to be a single "domain.") Dictated by Jewish law, eruvin (the plural form) are unbroken boundaries rabbis erect by attaching strips of plastic or cloth to public utility poles. They occasionally have been the subject of lawsuits by non-Jews.

ex-gay

The movement, mostly found in conservative Christianity, that purports to change the sexual orientation of people from same-sex attraction to opposite-sex. It is also referred to as reparative or conversion therapy. It is highly controversial. Several major medical associations have rejected such therapy when it views homosexuality as a mental disorder or sickness, or assumes that homosexuals' sexual orientation is something that must be changed. Ex-gay should never be used without explaining the term and the controversy associated with it. See gay.

gentile

In Judaism, anyone who is not a Jew. It is usually a reference to Christians.

God

Capitalize in reference to all monotheistic religions. Also capitalize such references as God the Father, Holy Ghost and Holy Spirit. However, lowercase personal pronouns, such as him and he. Many Christians consider God to be beyond gender, so be sensitive to the context of the story and avoid gender-defining pronouns when appropriate. Orthodox Jews write G-d to avert the sin of erasing or defacing God's name. Journalists should respect these Jews' practice by using G-d in quotes of written material, but otherwise should refer to God.

golden rule

Variations on this precept, which can be succinctly stated as "Treat others as you wish to be treated," are found in the texts of every major religion, including Christianity, Judaism and Islam.

halakhah

Pronounced "ha-la-KHAH." Jewish law, or the set of rules and practices that govern every aspect of life. They are defined by Jewish scripture and teachings. Jews believe that the law was given by God to Moses at Mount Sinai and that it has been interpreted for each generation by respected and learned rabbis.

Hanukkah

The Jewish Festival of Lights. It usually falls in early or mid-December. The eight-day holiday celebrates the Maccabees' victory over the Syrians in the second century B.C. The Maccabees were a first- and second-century B.C. Jewish family that brought about the restoration of Jewish religious and political life. They also made several unsuccessful attempts to overthrow Roman rule in Judea. Hanukkah is the preferred spelling. See Jewish holidays.

Haredi

A Hebrew term (Haredim in the plural) that literally means "fear" or "anxiety" and is used in the context of a devout believer who "trembles in awe of God." The label can be applied to strictly observant Orthodox Jews instead of the term ultra-Orthodox, but Haredi is not widely used outside of Israel and Jewish media outlets.

HaShem

Pronounced "hah-SHEM." The word some Jews use in the place of the word God, which is considered to be too holy to utter. It literally means "The Name."

Hasidism

A social and religious movement in Judaism founded in 18th-century Poland. It stresses the importance of devotion in prayer and serving God in ecstasy amid day-to-day life. Hasidic Judaism is usually structured around a "rebbe," or revered spiritual teacher whose interpretations of Jewish law govern the community. Its followers, called Hasidim, are among the most traditional of U.S. Orthodox Jews. Hasidic is the adjectival form.

Hebrew

The language in which the Hebrew Bible, or Old Testament, was first written. Its ancient form consists only of consonants, although later scholars added "vowel points" under the letters to aid pronunciation. Jewish children preparing for their bar or bat mitzvahs learn Hebrew so they can read portions of the Torah in the synagogue. Biblical Hebrew differs from modern Hebrew, which is the language of the state of Israel. The term Hebrew is also an outdated way to refer to Jews and should not be used.

High Holy Days

The High Holy Days are the 10-day period beginning with Rosh Hashanah, which marks the beginning of the Jewish New Year, and ending with Yom Kippur, the Day of Atonement.

Holocaust

Always capitalize when referring to the murder of 6 million Jews and others during World War II. Lowercase in other uses.

Jehovah

A somewhat archaic English rendering of the four Hebrew letters, usually transliterated as YHWH, that form the name of God. The preferred term of modern scholars is Yahweh. Jews traditionally never pronounce this name, substituting the Hebrew word Adonai, meaning "my Lord," and they add vowel markings in Hebrew Bibles that literally render the name unpronounceable.

Jew

Follower of the Jewish faith. Tradition holds that people are Jewish if their mothers are Jewish or if they have gone through a formal process of conversion, but some Jews argue for a more liberal definition. Many Jews consider themselves "secular Jews" whose connection to Judaism is cultural or ethnic rather than spiritual. Jews believe that God called their ancestor, Abraham, to be the father of their nation, which works toward the goal of establishing a divine kingdom on earth. Use Jew for men and women.

Jewish congregations

Jewish congregations are sometimes called synagogues and sometimes called temples. Many Reform congregations use the latter term, while Orthodox and many Conservative Jews believe the word temple can refer only to the ancient Temple in Jerusalem, which they hope will one day be rebuilt in the messianic age. Do not call a Jewish congregation a temple unless it uses that word in its name. Jewish congregations are autonomous, with no hierarchies controlling their activities. The only formal titles used are rabbi for the spiritual leader of a congregation and cantor for the person who leads the congregation in song. Capitalize these titles before a person's full name on first reference. Use only the last name on second reference. See Judaism.

Jewish holidays

Judaism observes 12 major holidays. Each begins at sunset and extends to nightfall at the end of the holiday. The most commonly celebrated by American Jews are Passover, which takes place in March or April and lasts for eight days; Rosh Hashanah, the Jewish New Year, in September or October; the Day of Atonement, also called Yom Kippur, in September or October; Sukkot in September or October; Hanukkah, which lasts for eight nights, in November or December; and Purim in February or March. The High Holy Days are the 10-day period beginning with Rosh Hashanah and ending with Yom Kippur. Judaism uses a lunar/solar calendar, so the dates of each holiday move each year. The year of the Jewish calendar (for example, 2006 ushered in the year 5767) represents the number of years since creation.

Jews for Jesus

This is a proper name of an organization founded by Jews who converted to evangelical Christianity, but see that faith as a fulfillment of the Jewish hope in the Messiah. The organization is part of a broader group of converts who call themselves "Messianic Jews." Jews for Jesus are known for proselytizing to Jews. They observe Jewish holidays, speak Hebrew in their services, read from the Torah and refer to Jesus by the Hebrew name Yeshua. They also call their houses of worship "synagogues" and their clergy "rabbis." Mainstream Jewish groups consider Messianic Judaism deceptive and do not want such converts to call themselves Jews of any kind. Messianic Jews and Jews for Jesus should never be grouped together with mainstream Jews in stories or listings. When reporting on them, clearly state that they are Christian by faith, though Jewish by culture or ethnicity.

Judaism

The religion of the Jewish people. With its 4,000-year history, it is one of the first recorded monotheistic faiths and one of the oldest religious traditions still practiced today. Its beliefs and history are a major foundation for other Abrahamic religions, including Christianity and Islam. It traces a covenant between the Jewish people and God that began with Abraham and continued through Jacob, Moses, David and others to today's modern Jews. Jews believe that the Messiah will one day establish a divine kingdom on earth, opening an era of peace and bliss. They believe that God called their ancestor, Abraham, to be the father of their nation, which works toward the goal of establishing this kingdom. Throughout history, Jews have been heavily persecuted. The Holocaust is the most high-profile example. The modern Jewish state of Israel was established in 1948. There are three major branches of Judaism. Reform Jews are the largest branch in the U.S., followed by Conservative and Orthodox Jews. See Reconstructionist Judaism for information on a smaller, fourth branch. Reform Judaism: Reform Jews believe that the spirit of Jewish law can be adapted to time and place, so they tend to emphasize social justice issues more than dietary laws, Sabbath rules and other particulars of traditional Jewish life. They are represented by the Union for Reform Judaism and the Central Conference of American Rabbis, both based in New York City. The Religious Action Center of Reform Judaism, based in Washington, D.C., is the political voice of the movement. Orthodox Judaism: Orthodox Jews practice strict adherence to traditional Jewish laws, including the rules that prohibit work on the Sabbath and kosher dietary laws that prohibit such things as eating pork products or shellfish and eating meat and dairy products together. Some Orthodox Jews might consider themselves "modern Orthodox," meaning that the men do not keep long beards or wear traditional garb. Most Orthodox congregations are represented nationally by the Union of Orthodox Jewish Congregations of America, and most of its rabbis are members of the Rabbinical Council of America. Conservative Judaism: Conservative Jews follow a middle path between Reform and Orthodox Judaism. Congregations and individuals vary in terms of how observant they are of dietary laws, and though some do not, many drive to synagogue on the Sabbath. They are represented nationally by the United Synagogue of Conservative Judaism and the Rabbinical Assembly.

Ka'bah

Pronounced "KAH-bah." A large cube-shaped house of worship that Muslims believe was built in Mecca by Abraham and Ishmael. Muslims around the world face the Ka'bah when they pray, and circle it several times as a rite of hajj.

Kabbalah

A doctrine of ancient Jewish mysticism that provides a path for humans to achieve an understanding of the divine mysteries of God and the universe. It teaches that such understanding can only be attained by praying and contemplating the hidden meanings of the Hebrew words and letters of the Torah. It had its greatest following in Europe during the 13th and 14th centuries. Preferred spelling is Kabbalah. Uppercase in all references.

kosher

In Judaism, refers to ritually pure food prepared in accordance with Jewish dietary laws. Lowercase in all references. Kashrut is the term for Jewish dietary laws, while kosher is the adjective.

Lubavitch, Lubavitcher

One of the largest branches of Hasidic Judaism, it originated in Russia in the 18th century. It was founded by Rabbi Schneur Zalman. In 1940, the Rebbe, or head of the movement, Rabbi Joseph Isaac Schneersohn, emigrated from Poland to America, where he was determined to make the Lubavitch into an American religious movement. Under his successor and son-in-law, Rabbi Menachem Mendel Schneerson, the Lubavitch used various forms of American media and institutions, such as schools and camps, to reach out to American Jews the group felt had not been exposed to "authentic" Judaism. Schneerson died in 1994, and a new leader has not been appointed. Lubavitchers still refer to him as "The Rebbe," while they refer to his father-in-law as "The Previous Rebbe." Some groups regard Schneerson as the Messiah and await his return, while others believe he could have been the Messiah if God had willed it. Still others believe he never died and is living in a way that ordinary people cannot perceive. The branch is also called Chabad-Lubavitch. Chabad comes from an acronym for the Hebrew words for wisdom, comprehension and knowledge. Lubavitch is the name of the town in Russia where the movement was based for more than a century. See Chabad.

Magen David

See Star of David.

menorah

Typically, a seven-stick candelabra used in synagogues. A seven-branched menorah is believed to have been in the original Jerusalem Temple. During Hanukkah, a nine-candle menorah called a "hanukkiah" is used to represent the eight nights of the holiday, with the ninth candle lighting all the others.

messiah, Messiah

A Hebrew term meaning "the anointed one." For Christians, the one and only Messiah is Jesus Christ. Jews await the coming of the Messiah. Capitalize in religious uses and lowercase in secular cases.

Messianic Jews

See Jews for Jesus.

mikvah

A ritual bath Jews use for spiritual purification after a woman's menstrual cycles, in conversion rituals and for men before important holidays. Jewish couples who observe the "laws of family purity" only engage in intercourse between when the woman goes to the mikvah after her menstrual cycle and the beginning of her next period. Contemporary Jews are incorporating the mikvah into new rituals involving major life cycle events, from graduations to divorces to adoptions.

minyan

The quorum necessary to recite certain prayers, including the standing prayer called Amidah and the Kaddish prayer for the dead, or to read from the Torah during Shabbat services. Traditionally, a minyan consists of 10 Jewish males over age 13, though many congregations allow any Jewish adult over age 13 to be counted for the minyan.

Modern Orthodox

A movement within Orthodox Judaism that tends to integrate traditional Jewish practices and beliefs with life in the secular world while retaining a distinctive Jewish identity and presence. Modern Orthodox will keep strictly kosher and carefully observe the Sabbath, and they will often wear a yarmulke, or skullcap, for example, but not always. Sen. Joseph Lieberman is a widely known example of a follower of the Modern Orthodox movement. The term "Modern Orthodox" is accepted among Jews, but as with any movement it can encompass a wide spectrum of beliefs and behaviors. So it is advisable to clarify with the subjects of a story where they see themselves within Modern Orthodoxy. See also ultra-Orthodox.

monotheism

A religion devoted to the worship of a single god. Judaism, Christianity and Islam are known as the world's three great monotheistic religions.

nondenominational

Used among North American Protestants to describe Christian churches, activities or organizations that are not sponsored by a specific denomination. Some non-Christian groups, including some Jews, use the term as well. It should not be used as a synonym for interfaith, interdenominational or ecumenical. Independent would be an acceptable substitute for nondenominational.

ordination

The process of authorizing a person to perform ministry in an official capacity for a specific religious organization, usually Christian or Jewish. Many denominations require formal education and training, and many ordain deacons as well as clergy. Lowercase ordained and ordination in all references.

Orthodox Judaism

The most conservative of the three major branches of Judaism, it strictly adheres to traditional teachings and acceptance of Jewish principles of faith and law. Capitalize in all references. Hasidism is a movement within Orthodox Judaism. See Jewish congregations, Hasidism and Chabad.

Passover

A major Jewish holiday commemorating the freedom of the Israelites from slavery in Egypt under the leadership of Moses, who was directed by God. The account is found in Exodus, the second book of the Hebrew Scriptures and the Christian Old Testament. Passover takes its name from God's instruction to the Israelites to mark the upper part of their homes' doors with lamb's blood so the Angel of Death would "pass over" their homes as he killed the firstborn male of each family in Egypt during the 10th plague. Passover, also called by its Hebrew name Pesach (pronounced "PAY-sakh"), is celebrated in late March or early April and lasts for seven days in Israel, though most outside of Israel celebrate for eight days. On the first two nights of Passover, it is traditional for a Jewish family to gather for a special dinner called a seder in which the story of the Exodus is retold. See seder and Jewish holidays.

patriarch

One of the ancient fathers of Judaism and Christianity — Abraham, Isaac and Jacob. In the Eastern and Oriental Orthodox churches, a patriarch is the highest-ranking bishop. Capitalize if used before a name. In the Roman Catholic Church, the patriarch is the bishop of Rome and is called pope. Unlike the pope, who has jurisdiction over all Roman Catholic territories, the authority of Eastern and Oriental patriarchs is more limited. They have a great deal of enforceable jurisdiction in their own territories but no authority over each other's.

Pentateuch

The Greek term for the first five books in the Old Testament. The Hebrew word for the same books is Torah.

Pesach

See Passover.

prophet

Someone who speaks divine revelation, or a message they received directly from God. Judaism, Christianity and Islam all have certain figures they formally recognize as prophets. Some traditions, including the Mormons, some charismatic groups and some non-Christian faiths, believe their leaders receive ongoing divine revelation. In much of Christianity, all ordained clergy are considered to have a prophetic role because their job is to proclaim the word of God. Capitalize when used before the name Muhammad to refer to Islam's final prophet, but otherwise do not capitalize as a title.

Purim

The Jewish holiday also called the Feast of Lots, held in February or March. As recorded in the Hebrew Scriptures (the Book of Esther, also called "the Megillah"), it commemorates the deliverance of the Jews by Queen Esther from a massacre plotted by the Persian vizier Haman. Purim is a joyous festival that is celebrated by publicly reading the Megillah, dressing in colorful costumes and regaling the community with "shpiels" (pronounced "sh-PEE-ls"), or humorous Purim plays and skits. See Jewish holidays.

rabbi

Hebrew word for teacher and the title used by Jewish clergy. On first reference, capitalize before a name. On second reference use only the cleric's last name.

Reconstructionist Judaism

A 20th-century movement, founded by Rabbi Mordechai Kaplan, that views Judaism as a social rather than a God-centered phenomenon. Reconstructionists generally do not believe the Hebrew Scriptures are divinely inspired, reject the idea of God as male or female, are less hierarchical and believe that Jewish law as a guiding principle isn't binding. Reconstructionist rabbis are ordained at the Reconstructionist Rabbinical College in Wyncote, Pa.

Reform Judaism

The dominant branch of Judaism in the United States. Originated in Germany in the 1700s, Reform Judaism is a more liberal form of Judaism than the Orthodox and Conservative branches. It is rooted in the belief that an individual's personal autonomy overrides traditional Jewish law and custom. The individual decides which Jewish practices, if any, to adopt. It also believes that both traditional rabbinic modes of study and less traditional ones are valid ways to learn about and from the Hebrew Bible. Reform Judaism also is more accommodating to modern lifestyles and ideas.

revelation, Revelation

In monotheistic religions, revelation is the process through which God reveals or communicates truths about God's self or will. Uppercase when referring to the final book of the New Testament, the Book of Revelation. (Note that Revelation is singular.)

Rosh Hashanah

Pronounced "rohsh-huh-SHAH-nuh." The Jewish New Year, celebrated according to the Hebrew calendar sometime between the middle of September and the middle of October. See Jewish holidays.

Sabbath

The day of the week observed for rest and worship. Most Christian traditions observe the Sabbath on Sunday. Judaism — along with some Christian traditions such as Seventh-day Adventists — observes the Sabbath on Saturday. (Jews' observance of the Sabbath begins at sundown Friday.) Capitalize in religious references but lowercase when talking about periods of rest. See Shabbat.

Satan

In the Hebrew Bible, Satan is depicted as an angel used by God to test man. In the New Testament, Satan is a fallen angel who is the ultimate evil and enemy of God and man. In Islam, Satan was the head jinn or genie until he angered God by refusing to accept man's superiority. Uppercase in all references, but always lowercase devil.

seder

The ritualized dinner held in Jewish homes on the first night or first two nights of Passover. The word seder means "order" in Hebrew. It commemorates the Jews' escape from slavery in Egypt as described in the book of Exodus, and it features special foods and the reading of the Haggadah, a compilation of biblical passages, prayers, hymns and rabbinic literature. See Passover.

Sephardi

Pronounced "suh-FAR-dee." A Jew of Portuguese, Spanish or North African descent. Originally, Sephardi meant a Jew descended from the Iberian Peninsula, but it has now come to mean Jews who are not Ashkenazim, including Jews from Arab countries and Greece. Sephardic Jews are estimated to make up 20 percent of the world's Jewish population. The plural form of Sephardi is Sephardim. See Ashkenazi.

Shabbat

Hebrew word for Sabbath. The Jewish Sabbath is from sundown Friday to sundown Saturday. Shabbat is observed by lighting candles on Friday night (this is usually done by the woman of the house) and sharing a special family meal. Religious services that include a reading from the Torah happen on Saturday morning, after which families gather for a Shabbat lunch. Shabbat ends with the lighting of a three-wicked "havdalah" candle and the passing around of a fragrant spice box, the scent of which is supposed to carry the peace of Shabbat into the work week. Orthodox Jews refrain from driving, turning lights on or off and a number of other activities that are considered "work" on Shabbat.

Shavuot

Pronounced "shuh-VOO-oat." The name for the Jewish Feast of Weeks, which commemorates Moses' receiving of the Ten Commandments. Shavuot falls 49 days after Passover. These days are counted out ritually by Jews in a practice known as "Counting the Omer." Shavuot occurs in May or June. See Jewish holidays.

Shema

Pronounced "shu-MAH." Considered the most important prayer in Judaism, it consists of Deuteronomy 6:4-9, which begins, "Hear O Israel, the Lord is our God, the Lord is One."

shiva

The Jewish term for the seven-day period of mourning in which close relatives "sit shiva" after a person's funeral. During shiva, mourners abstain from work, sex, learning and following other rules. Mourners often sit on low stools or benches to symbolize how they are brought low by grief, and they cover all mirrors in the shiva house to focus on the deceased rather than on their own vanity. The purpose of shiva is to honor the dead and to help the mourner grieve. Others visit a home where someone is sitting shiva.

Shmini Atseret

Jewish holiday celebrated eight days after the beginning of Sukkot. Shmini means "the eighth."

Shoah

The Hebrew word for holocaust. The memorial day for those who died in the Holocaust is called Yom Hashoah and takes place in March or April.

shofar

A ceremonial ram's horn sounded on Jewish holidays and special occasions, particularly Rosh Hashanah.

shul

A Yiddish word for a Jewish house of worship. The term is primarily used by Orthodox Jews.

Simchat Torah

Pronounced "SIM-hot TO-rah." A Jewish holiday marking the completion of the yearlong cycle during which the entire Torah is read.

skullcap

A small, close-fitting headpiece worn in some religious traditions, particularly by men. Other names for it include yarmulke or kippa (worn by Jews), zucchetto (worn by Roman Catholic prelates) and kufi (worn by Muslims).

Star of David

A six-pointed star that is a symbol of Judaism and of Israel. The Hebrew term for it is Magen David, which translates as "shield of David."

Sukkot

Pronounced "SOO-koht." Seven-day Jewish festival commemorating the Israelites' life as they wandered 40 years in the desert after being liberated from slavery in Egypt. Sukkot is the word for the booths the Israelites lived in. Also called the Feast of the Booths or the Feast of the Tabernacles. It is considered one of the most important Jewish holidays and occurs during September or October. See Jewish holidays.

synagogue

Jewish place of worship. In Orthodox communities, people live within walking distance of their synagogues.

Talmud

In Judaism, the extensive written body of interpretation and commentary by scholarly ancient rabbis of the oral law believed to have been given by God to Moses at Mount Sinai. The Talmud is made up of the Mishnah, which is the written version of early Jewish oral law, and the Gemara, which interprets and comments on the Mishnah and other traditional texts. The Talmud constitutes the basis of religious authority in Orthodox Judaism and is distinct from the written law of the Torah.

Tanakh

The technical name for the entire Hebrew Bible. It includes the Torah, the Prophets and the Sacred Writings, organized into 24 books.

temple

A building used for worship or religious purposes. Uppercase when part of a formal name or when referring to the ancient Temple in Jerusalem. The word temple is used differently in different religious traditions. It is the place of worship for Hindus, Buddhists and Jews, although Orthodox Jews and many Conservative Jews believe the only temple is the one destroyed in Jerusalem and so they call their congregational buildings synagogues. In the Church of Jesus Christ of Latter-Day Saints, temples are sacred buildings with restricted access; they differ in purpose from meetinghouses, where weekly worship takes place.

Temple Mount

The area in the old city of Jerusalem that housed ancient Jewish temples. See also Al-Aqsa.

Ten Commandments

The biblical edicts handed to Moses by God atop Mount Sinai. They are the basis of Mosaic law. They are found in Exodus 20:2-17, 34:12-26, and Deuteronomy 5:6-21; Exodus 20 is the most commonly quoted version. The commandments are numbered differently by Jews and by different Christian traditions, including Orthodox, Protestant and Catholic Christians. The different numbering and wording (according to the biblical translation chosen) is one factor that has made public posting of the Ten Commandments controversial.

Tisha B'Av

Pronounced "TI-shah Bav." Literally, the ninth day of the Hebrew month of Av. Jews fast and mourn the destruction of the two ancient Temples.

Torah

The Jewish sacred writings found in the first five books of the Hebrew Bible (Genesis, Exodus, Leviticus, Numbers and Deuteronomy). Also called "the Five Books of Moses," the Torah is copied by specialized scribes onto parchment scrolls and is treated with great care and respect by Jewish congregations. The term Torah is sometimes also used to describe the larger body of Jewish law and Scripture.

TuB'Shevat

Pronounced "TOO-bi She-VOT." Literally, the 15th of the Hebrew month of Shevat. This Jewish holiday is also called the New Year for Trees.

ultra-Orthodox

A term sometimes applied to strictly observant Jews such as the Hasidim who are distinguished by their style of dress, physical appearance and attention to religious ritual. Some Jewish communities described as ultra-Orthodox, such as the Lubavitch Hasidim, find the term offensive. Agudath Israel of America, an umbrella group that includes other Hasidic and many non-Hasidic Orthodox Jews, also objects to the term. Other groups do not. The term is also commonly used to describe right-wing religious parties in Israeli politics. Haredi (or Charedi) is another term sometimes used as an alternative to ultra-Orthodox, though it is not widely known. Haredi is treated under a separate stylebook entry. Be aware that Modern Orthodox is a separate category of Orthodox Judaism, and it is an acceptable term that is also treated under a separate stylebook entry. See also Modern Orthodox.

yahrzeit

In Judaism, the anniversary of the death of an immediate family member, marked by the lighting of a yahrzeit candle that burns for 24 hours.

Yahweh

Pronounced "YAH-way." An English translation of the four Hebrew letters usually transliterated as YHWH that form the name of God. Jews do not attempt to pronounce this name, as they believe that would risk taking the name of God in vain. Wherever it appears in Scripture, they say "the Lord" ("Adonai") instead, and a vowel marking beneath the four consonants renders the word unpronounceable in Hebrew. Sixteenth-century Protestants attempted to transliterate this word, resulting in "Jehovah."

yarmulke

Pronounced "YAH-mi-kuh." Yiddish name for the skullcap traditionally worn by Jewish men in synagogue, and by some Jews at all times. It is a symbol of humility and submission to God. It is sometimes also referred to by its Hebrew name, kippa, which means "dome."

Yom Hashoah

The Hebrew words for Holocaust Remembrance Day, which commemorates the victims of the Holocaust and takes place on the 27th day of the month of Nisan in the Jewish calendar. It falls in spring, though the day shifts on the U.S. calendar. The U.S. Congress asked the U.S. Holocaust Memorial Council, which it created in 1980, to lead the nation in civic observances. It is a national memorial day in Israel, and U.S. observances generally take place from the Sunday before to the Sunday after the actual day.

Yom Kippur

Pronounced "yohm ki-POOR." The Jewish Day of Atonement, which takes place on the 10th day of the Jewish month of Tishri — September or October of the Gregorian calendar. Yom Kippur is marked by spending the day in prayer; forgoing food, drink and work; and repenting for misdeeds of the past year. See Jewish holidays.

Zionism

A modern movement in Judaism rooted in the establishment of a separate Jewish nation, based on God's biblical promise that Israel would forever belong to Abraham and his descendants as a nation. Many Zionists do not have religious motives, but believe a Jewish state is necessary because of the long history of persecution of Jews. That goal was realized with the establishment of the state of Israel in 1948. Zionism refers to Mount Zion, the site of the ancient Temple in Jerusalem. A Zionist is a supporter of Zionism.

Zionist

A supporter of Zionism.